Posted on May 2, 2022 in ASRC News, Neuroscience Initiative
As an imaging specialist, Kelly Veerasammy zooms in to take a close-up look at the molecules found in living organisms. She hopes to one day use the imaging skills she's learned at the Advanced Science Research Center at the CUNY Graduate Center (CUNY ASRC) to do research in clinical pathology.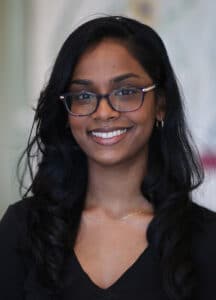 The 22-year-old has been granted a 2022 Jonas Salk Scholarship to support her studies in biomedical science. Veerasammy, an alumna of The City College of New York, was one of seven CUNY graduates chosen based on their potential to make important contributions to medical research.
Over the past year, Veerasammy ran experiments with an advanced imaging technique known as "MALDI" — short for matrix-assisted laser desorption/ionization — used to quickly analyze biological molecules.
"It's actually mass spectrometry imaging," Veerasammy said. "So, we can detect metabolites in tissues without the use of any kind of structural modifications that might compromise the integrity of the sample."
The imaging is done with an advanced mass spectrometer, located in the MALDI Imaging Joint Facility, co-directed by two of her CUNY ASRC mentors, Professor Ye He from the Neuroscience Initiative and Professor Rinat Abzalimov from the Structural Biology Initiative. "In one run, we can see thousands of metabolites," Veerasammy said. "So, you can look at proteins, peptides, lipids, and other kinds of metabolites like serotonin, any kind of biomarker you're looking for."
In one experiment, Veerasammy used MALDI to analyze brain tissue samples. The results highlighted the role that lipoproteins and their receptors play in transporting lipids in the brains of fruit flies. The findings were reported in a study, co-authored by Veerasammy, and published in Nature Communications last year.
Some of her other imaging research focused on brain tumors, spinal cord injuries, and COVID-19. "The special thing about Kelly is she's truly interdisciplinary," said He. "She did neuroscience research with me but she also trained in nanoscience and mass spectrometry."
Tong Wang, a member of the Nanoscience Initiative and the manager of the CUNY ASRC Imaging Facility, was also a mentor to Veerasammy.
This fall, she'll begin classes at SUNY Downstate Health Sciences University's College of Medicine, where she plans to continue her work with imaging technology.
"My goal right now is to find a lab that's working on imaging for disease diagnosis or treatment, and then hopefully see if I can find a way to integrate all of the things that I've learned at the ASRC," she said.