Public Programming Spotlight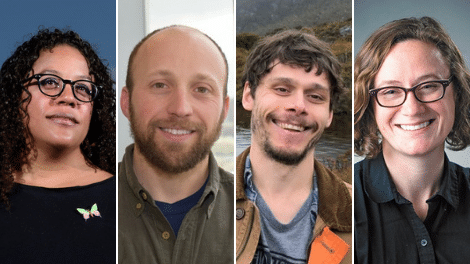 Featuring Andrew Reinmann of the ASRC Environmental Sciences Initiative, along with Jessica Allen, assistant professor of biology at Eastern Washington University; James Lendemer, assistant professor of biology at the CUNY Graduate Center and associate curator of the Institute of Systematic Botany at the New York Botanical Garden; and Jessica Ware, assistant curator in the Division of Invertebrate Zoology at the American Museum of Natural History.
Research Updates

Environmental Sciences
The Environmental Sciences Initiative brings a distinct research vision to the environmental sciences, uniting state-of-the-art analytical capabilities, environmental analytics, and sensing technologies to create fundamental scientific knowledge for addressing the fundamental environmental research questions facing the planet today and into the future.

Nanoscience
The Nanoscience Initiative has a distinct research vision in nanoscience, focusing on the study and application of dynamic nanoscale systems, from fundamental understanding to applications ranging from biomedicine to food science and green energy.

Neuroscience
The Neuroscience Initiative actively promotes interdisciplinary approaches for the study of environmental influences on brain function and behavior and to develop transformative technologies and advanced platforms aimed at promoting mental health.

Photonics
Research in the Photonics Initiative encompasses biology, medicine, physics and technology fields such as computer display and lighting, as well as the futuristic fields of quantum information processing and quantum encryption, in which data reside on single photons, which are to light what electrons are to electricity.

Structural Biology
Research in the Structural Biology Initiative brings together biologists, chemists, and physicists to tackle many of life's central questions. How do cells respond to their surroundings? How do they make copies of themselves? What determines the balance between health and disease?
Connect With Us
Contact Us
The ASRC is located at 85 St. Nicholas Terrace, New York, NY 10031.
p – 212.413.3300
e – ASRCinfo@gc.cuny.edu
For media inquiries or to speak with faculty or researchers at the ASRC, please contact Shawn Rhea, srhea@gc.cuny.edu
Support or Partner With Us
We welcome your inquiries about ways to partner with or support the ASRC, including any initiatives or projects that you'd like to impact.
Please contact Paul Mastrodonato, Development Officer for the Sciences, at pmastrodonato@gc.cuny.edu
675+
FACULTY
PUBLICATIONS