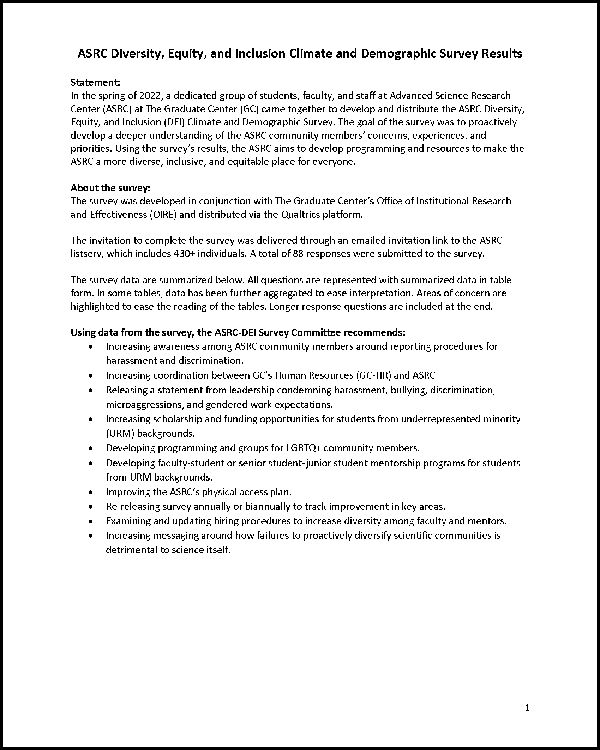 ASRC's Commitment to Anti-Racism, Anti-Sexism and Diversity, Equity and Inclusion
The ASRC is committed to anti-racism, anti-sexism, and anti-discrimination. We strive to create safe spaces for all to learn, work, and thrive. We firmly believe a diverse, equitable, and inclusive community is essential in the sciences, technology, engineering, and math (STEM) because:
Many of society's and the world's most critical problems require solutions from interdisciplinary STEM research efforts, and these efforts require all the talent we can muster. No barricade to cultivating this talent should exist.
Interdisciplinary research depends on people working together in collaborative teams. And more diverse teams generate better, more innovative outcomes because they are informed by a broader range of lived experiences and knowledge.
STEM outcomes impact our daily lives, from the healthcare we receive to the technologies we use. Innovations in these areas will only address the diversity of needs in our communities if the teams creating them reflect the world's diversity.
At the same time, we acknowledge that we currently live in a world where access to resources and opportunities is not equal—much less equitable—due to a history of systemic and institutionalized racism, sexism, and discrimination. In the summer of 2020, a group of ASRC students, faculty, and staff came together to form a committee to address racism, sexism, and discrimination and to promote inclusion and equity. This committee is dedicated to:
Education and advocacy on the importance of diversity, equity, and inclusion in STEM
Identification and transformation of institutional policies and cultural norms that perpetuate bias and inequality of resources
Assessment of our cultural climate and communal perspectives on discrimination, harassment, and inequality
Creation of safe spaces and access to resources for community members experiencing discrimination, harassment, or inequality.
Resources
We have assembled this Reading List for members of our community.
Additional resources
Committee Membership