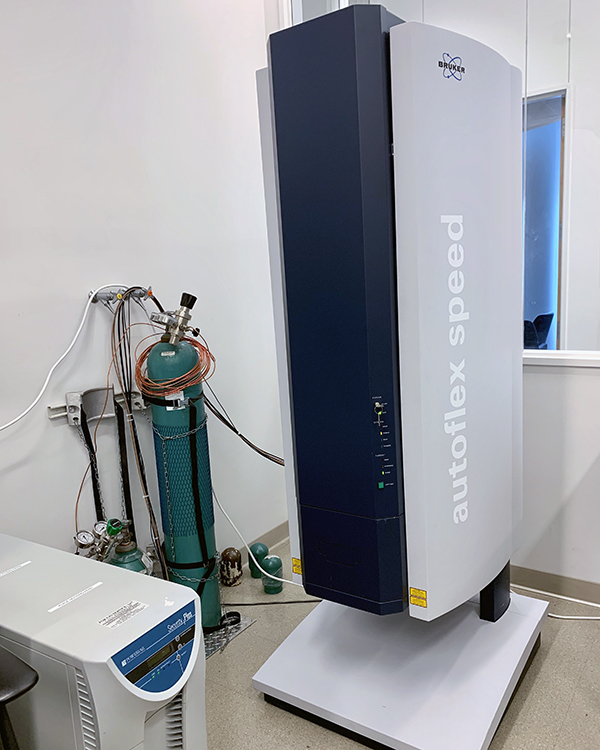 The Autoflex Speed TOF-TOF features a number of options, including linear mode, high-resolution reflectron mode, LIFT technology to enable the use of various MS/MS techniques and fully automated plate management for label-free high throughput screening. The instrument incorporates smartbeam–II laser technology with 2kHz speed in TOF mode. Applications include intact protein identification and characterization, analysis of inorganic/organic molecules, synthetic polymers, dendrimers, peptide mixtures, oligonucleotides, carbohydrates.
The HTX M5 Sprayer builds on the proven capabilities of its predecessor, the HTX TM-Sprayer, to offer even greater performance.  The TM-Sprayer™️ MALDI Sample Preparation System is designed to provide the highest quality matrix deposition on 2D biological samples and can be integrated with any MALDI mass spectrometer platform. The all-new, all-innovative M5 chassis, high velocity stage, heated spray head and heated sample holder drawer contribute to a greater user experience and expanded process capabilities.
Leica Aperio CS2 slide scanner produce high-quality digital slides right from your desktop with the ultra-compact Aperio CS2 digital pathology scanner. With a five-slide capacity and high resolution magnification capabilities, including 20x and 40x, the Aperio CS2 is a highly reliable workhorse for medium-volume sites. The intuitive interface and easy-to-use design consistently provides rapid creation of high-resolution digital slides, which can be co-registered with MALDI MS imaging.
SCiLS Lab is the leading software for analysis of mass spectrometry imaging data and is an integral part of Bruker's MALDI molecular imager solution. Comparative analysis of multiple samples can be visualized in both 2D and 3D allowing a multitude of applications in pharmaceutical, medical, and industrial research. Powerful Dell Precision 7920 workstation provides high speed and outstanding performance for data analysis.