SCiLS MALDI Imaging Analysis Workstation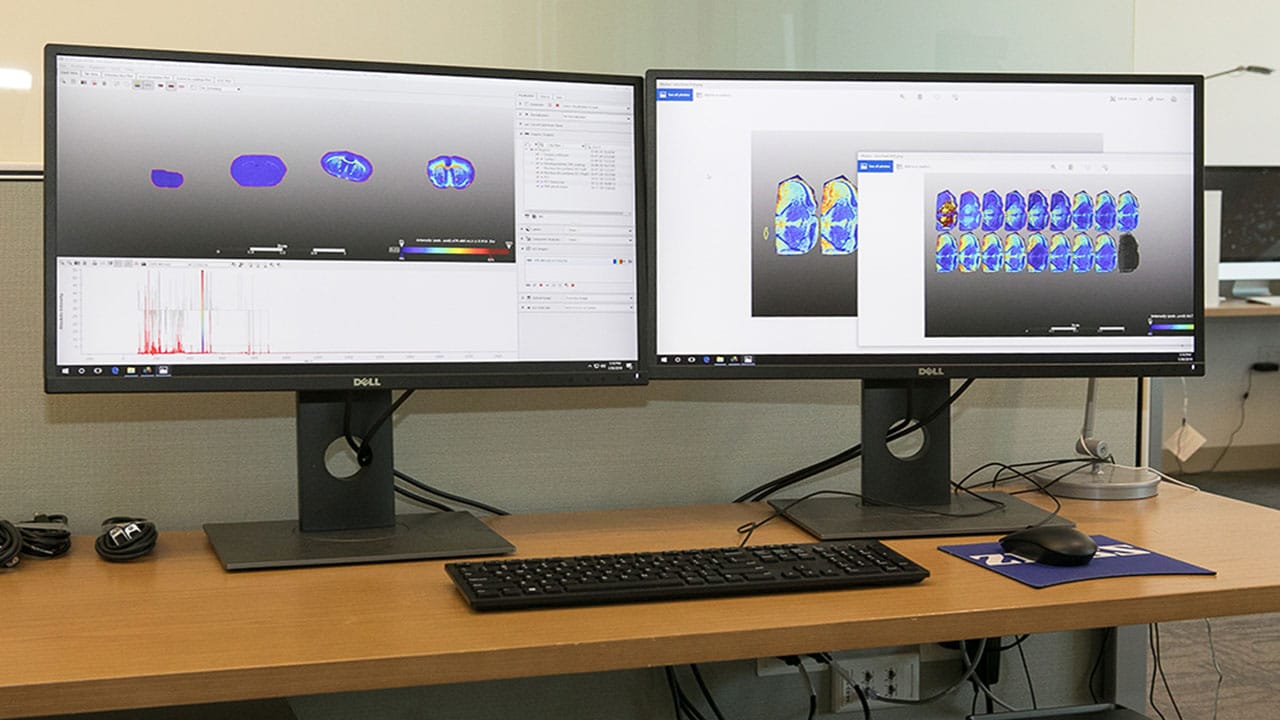 SCiLS Lab is the most sophisticated software to analyze mass spectrometry imaging. Used in scientific communities and clinical pharmaceutical industry, SCiLS provides instant visualization of ion images and spectra with numerous visualization options, incorporates multiple annotations for characterizing regions in clinical and preclinical studies. It is capable of processing large-sized data sets, including comparative analysis for uncovering discriminative m/z-markers and co-localization analysis for discovering of correlated m/z-values. The SCiLS is able to accomplish both spatial segmentation for automatic annotation of prominent features, and classification model calculation based on training data and classification of new samples.
SCiLS are operated in high performance Dell Precision 7920 workstation equipped with dual core Intel Xeon Gold 6134 3.2GHz, 3.7GHz Turbo, 8C, 64GB (4x16GB) 2666MHz DDR4 memory and NVIDIA Quadro P5000, 16GB, 4 DP, DL-DVI-D (7X20T) graphics card.
Features
Instant visualization of ion images spectra
Multiple annotations for characterizing regions in clinical and preclinical studies
Process data sets of virtually unlimited size
Comparative analysis for uncovering discriminative m/z-markers
Co-localization analysis for discovering of correlated m/z-values
Spatial segmentation for automatic annotation of prominent features
Extraction of underlying trends
Mixture decomposition
Classification model calculation based on training data and classification of new samples
Applications
Statistical analysis and visualization of mass spectrometry imaging data
Compositions and analysis of data sets of virtually unlimited size
Construction, visualization and analysis of three-dimensional models
---
Contacts
Ye He, Ph.D.


Director

,

Live Imaging and Bioenergetics Facility




Co-Director

,

MALDI-TOF MS Imaging Facility




Research Associate Professor

,

Neuroscience Initiative


yhe1@gc.cuny.edu
Rinat Abzalimov, Ph.D.


Director

,

Mass Spectrometry Facility




Co-Director

,

MALDI-TOF MS Imaging Facility




Research Associate Professor

,

Structural Biology Initiative


rabzalimov@gc.cuny.edu
Manufacturer / Model
SCiLS / 2015b
Facility
MALDI-TOF MS Imaging Facility
Keywords
maldi, mass spectrometry imaging software