The ASRC Nanofabrication Facility undertakes collaborative multidisciplinary projects centered around creating novel devices and interfaces. Examples of past and ongoing projects include miniature electrical circuits for quantum computing applications, microfluidic devices to create lab-on-chip platforms, microneedle arrays to interface with individual cells, micro electromechanical pressure sensors,  nano-coatings, and many others. The possibilities are virtually endless!
To create these devices we routinely use a variety of lithographic techniques that produce patterns which span eight orders of magnitude: from several nanometers to centimeters in size.
These patterns are subsequently used to either deposit materials, such as metals, glasses, or ceramics, or to etch these materials with nanometer precision.
The facility is also supported by an imaging suite, that consists of a cryogenic TEM for life sciences, a materials science TEM, a training TEM, and a dual beam SEM / FIB / Nanomanipulator system for sample preparation. For users, the facility provides an opportunity to carry out hands-on research with some of the world's most sophisticated instruments for the fabrication and characterization of materials at the micro and nanoscale.
The Nanofabrication Facility is a highly collaborative research space located on the ground floor of the Advanced Science Research Center at The Graduate Center, CUNY. The facility is home to dozens of interdisciplinary research teams from many diverse sectors of academia and industry. Our mission is to facilitate scientific discoveries and development of new technology by providing both mentorship and access to a state of the art nano-manufacturing environment. We are also passionate about enhancing the quality of science education in New York City. We partner with local educational institutions to develop curricula and find new and creative ways to share our enthusiasm for STEM with the next generation of New Yorkers.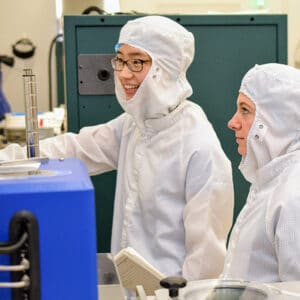 The NanoProject Seed Grant program was created to address the infamous catch-22 of academic research: you need preliminary data to get funded, yet you also need funding to acquire the preliminary data. The program provides researchers with limited access to the facility in order to collect data/make a device that will be used to either finish an experiment that is almost ready for publication or for a grant proposal.
The total fabrication costs incurred for a single NanoProject cannot exceed $1500.
NanoProjects may be performed either by the researchers themselves or in collaboration with Nanofabrication staff.
NanoProject Seed Grants are reviewed by an internal committee, and are awarded based upon equipment and staff availability at the discretion of the Nanofabrication staff.
Apply online for a NanoProject Seed Grant »
Please note: Due to the high demand for equipment use, a maximum of ten NanoProject Seed Grants will be awarded per academic year.
Complete the online application to become a user of this and other ASRC facilities.
For more information, please contact:
Nanofabrication Facility
Advanced Science Research Center
City University of New York
85 St. Nicholas Terrace
New York, NY 10031
Email: nanofab@gc.cuny.edu
---
Facility Staff
Sign up for the ASRC Nanofab Facility Newsletter to stay up to date on news and events affecting users.