Posted on May 11, 2022 in ASRC News, Featured News, Neuroscience Initiative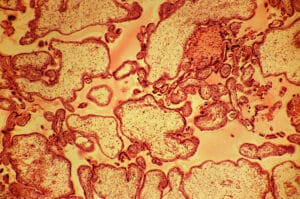 A new study in the journal Frontiers in Genetics presents initial evidence that links infant temperament and prenatal exposure to climate-related disasters. The study found an association between maternal stress due to Superstorm Sandy and neurobehavioral development in babies.
Published on April 29, the study profiled the genetic changes in placental tissue from a small group of New York City–area women who were pregnant during Superstorm Sandy, a deadly hurricane that destroyed thousands of homes in New York and New Jersey in 2012.
The mothers reported on their stress levels following the storm. They also provided details on their children's temperaments from 6 to 12 months of age. An analysis of the placental transcriptome identified genes related to inflammation and permeability of the placenta.
"The link between children's temperament score and maternal stress exposure was significant," said Professor Jia Liu, a corresponding author and a faculty member of the CUNY ASRC Neuroscience Initiative. "In addition, genes related to inflammation and sensory perception were upregulated in the placental samples from children with characteristics of a 'slow-to-warm-up' temperamental style."
According to the study, children with "slow-to-warm-up" temperaments tend to express themselves as shy or cautious, and may be slow to adapt to change. Researchers observed no significant differences in temperament due to a mother's marital and socio-economic status, or race.
"Together, these findings provide initial evidence that maternal exposure to climate-related disasters results in altered placental transcriptome, which may be related to long-term emotional and behavioral consequences in children," the study authors wrote.
Past research has shown that the placenta plays a critical role in transferring nutrients and oxygen, regulating hormone secretion and growth factors, and protecting the fetus from maternal stress, Liu said. But the precise mechanism by which the placenta influences a baby's neurodevelopment is not yet fully understood, she said.
The mothers were part of a cohort profiled in a series of studies on stress from Superstorm Sandy and its effects on pregnant mothers and newborns, led by corresponding author Professor Yoko Nomura, (GC/Queens, PsychologyNeuroscience, Cognitive Neuroscience).
Genetic analysis can be a powerful tool for assessing risk factors associated with stress-related, psychopathological development in children and developing early interventions, Liu said.