Posted on March 31, 2020 in ASRC News, Featured News
Professor Patrizia Casaccia, director of the Neuroscience Initiative at the Advanced Science Research Center (ASRC) at The Graduate Center, was the first to mention that her lab had masks and gowns that could be donated to hospitals and suggested that others at the ASRC might also be willing to donate.
With the surge in cases of COVID-19 in New York City hospitals and the critical shortage of personal protective equipment (PPE), the ASRC has joined the massive effort to support medical personnel by donating crucial gear and equipment.
The leaders of the four other research initiatives at the ASRC immediately enlisted.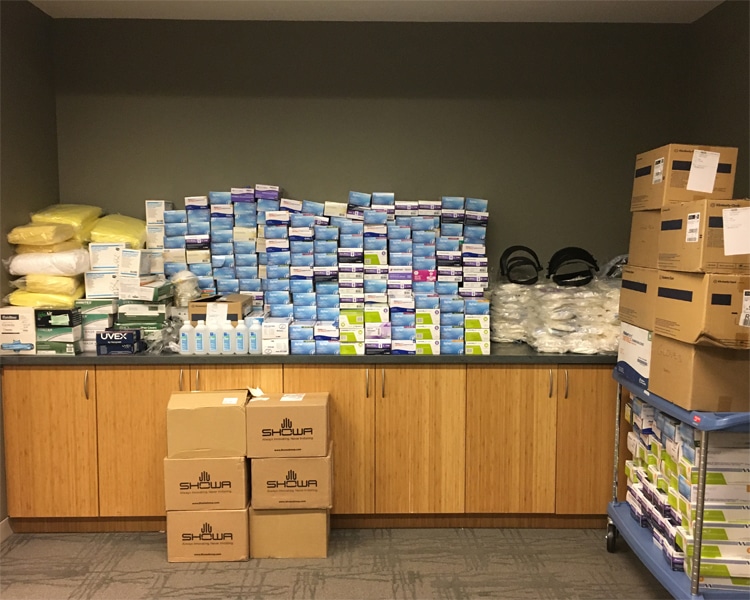 "The response from the ASRC's researchers to donate PPE was immediate and strong," said Annette (Nina) Gray, Graduate Center associate dean for the sciences and executive director of the ASRC. "I think this reflects everyone's desire to help in whatever small or large way they can — to make any positive difference in the face of this crisis."
To date, 22 ASRC labs and core facilities have offered 500 boxes (or 5,000 pairs) of gloves, along with masks, face shields, gowns, and disinfecting solutions. Meghan Hughes, director of operations at the ASRC and Aldo Orlando, environmental health and safety officer, are responsible for collecting and organizing all the donated materials and managing the logistics to get the PPE where it needs to be.
"We reached out to CUNY Central first to see what the child care centers need to stay open safely and are providing them about 500 pairs of gloves, as well as masks," Gray said. She and her team worked with Sherry Cleary, university dean of early childhood initiatives at CUNY. The ASRC donated the remainder of the PPE to Harlem Hospital, thanks to facilitation by the Manhattan Borough President's office.
The ASRC also relocated two 3D printers to a space called HackManhattan that is establishing a 3D printer farm for NYCMakesPPE that will in turn generate face shields for health care workers.
Gray said that the donations reflect the ASRC's mission to address societally important problems and, as she emphasized, "right now COVID-19 is that problem." Future research is planned to address this crisis on both a global and local level. Observing social distancing guidelines, the ASRC is hosting a webinar on April 7th to stimulate research on COVID-19 through academic-industry partnerships, led by the ASRC's Center for Advanced Technology, Sensor CAT.