Informational Flier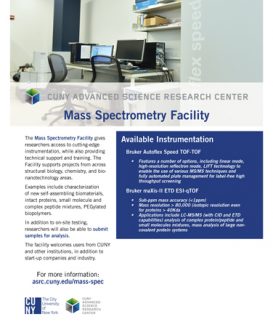 The CUNY ASRC Mass Spectrometry Core Facility provides analytical services and expertise in mass spectrometry to CUNY researchers and their industrial partners, academic research labs outside the University. Current services support projects from across structural biology, chemistry, and bio-nanotechnology areas. Examples include characterization of new self-assembling biomaterials, intact proteins, small molecule and complex peptide mixtures, PEGylated biopolymers.
The Core Facility maintains ultra-high resolution maXis-II / ETD ESI-q-TOF, equipped with Dionex Ultimate-3000 U(H)PLC and RS-nano-LC systems, and Autoflex-Speed MALDI TOF-TOF mass-spectrometers. Bruker's maXis-II/ETD features latest developments in TOF technology to provide confidence for accurate mass measurements and molecular formula determination. Bruker's Autoflex-Speed hardware options include both linear and high-resolution reflectron modes, LIFTTM technology for structural analysis of peptides. Several orders of magnitude dynamic range of both instruments ensure highly sensitive mass measurements at sufficient speed. To view the instruments available in the Mass Spectrometry Core Facility, please click here.
The Core Facility offers training on Autoflex MALDI TOF-TOF for researchers planning to use the equipment extensively. Please find instructions and forms necessary to become a user or for sample submission only. A full list of services and instrument user rates can be found here.
To inquire about any of the instruments, or for availability, please contact Mass Spectrometry Facility Manager Rinat Abzalimov at rabzalimov@gc.cuny.edu or via telephone at 212.413.3236 for further information.