Posted on October 12, 2023 in Structural Biology Initiative
Message from the Director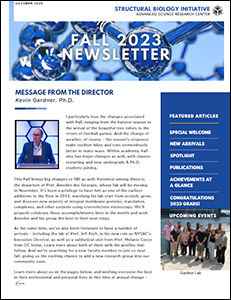 I particularly love the changes associated with Fall, ranging from the harvest season to the arrival of the beautiful tree colors to the return of football games. And the change of weather, of course — the season's crispness makes outdoor hikes and runs tremendously better in many ways. Within academia, Fall also has major changes as well, with classes restarting and new undergrads and Ph.D. students joining.
This Fall brings big changes to SBI as well. Foremost among these is the departure of Professor Amedee des Georges, whose lab will be moving in November. It's been a privilege to have him as one of the earliest additions to the floor in 2015, watching his lab start from scratch, grow, and discover new aspects of integral membrane proteins, translation complexes, and other systems using cryo-electron microscopy. We'll properly celebrate these accomplishments later in the month and wish Amedee and his group the best in their next steps.
At the same time, we've also been fortunate to have a number of arrivals – including the lab of Professor Jeff Kieft, in his new role as NYSBC's Executive Director, as well as a sabbatical visit from Professor Melanie Cocco from UC Irvine. Learn more about both of them with the profiles that follow. And we're searching for a new faculty member to join us next fall, giving us the exciting chance to add a new research group into our community soon.
Learn more about us in the newsletter, and wishing everyone the best in their professional and personal lives at this time of annual change.
Kevin Gardner
Director, Structural Biology Initiative
---
In this Issue:
Special Welcome
New Arrivals
Spotlight
Publications
Achievements at a Glance
Congratulations 2023 Grads!
Upcoming Events