Posted on June 23, 2022 in ASRC News, Featured News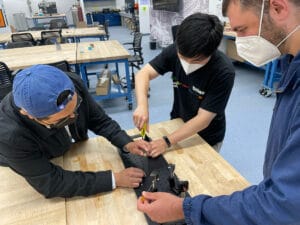 By Favour Achimba
A physicist by training, City College of New York alum James Scholtz launched his business, Vyir Inc., to develop a novel optical sensor that enables low-cost, high-quality infrared imaging. When the COVID-19 pandemic hit in 2020, Scholtz realized his sensor could potentially be useful in detecting the SARS-CoV-2 virus, but he needed help to quickly adapt it. That was when he turned to the newly launched CUNY-ASRC Sensor CAT—a New York State-funded Center for Advanced Technology. With the support of the Sensor CAT, Vyir, Inc. received the technical and financial support it needed to  explore the use of its sensor for this application. 
"CUNY has tons of students, knowledge, and facilities; we just need to bring in industries to create the opportunities to work on real world problems," said Scholtz. "The Sensor CAT provides this access, and that is very important for navigating bureaucracy. I am a huge fan of the CAT."
The CAT program is designed to grow and support STEM entrepreneurship and workforce development across New York State by connecting tech startups to CUNY resources such as cutting-edge research instrumentation and scientific expertise in the form of its academic staff and students. Additionally, the CAT can provide matching funds to startups that develop their technology at CUNY, which incentivizes companies like Vyir to seek out partnerships at the university and develop strong collaborative relationships with staff and students. With success and growth, these companies can become future employers in the state, providing a direct career pathway for those students they have come to know and trust.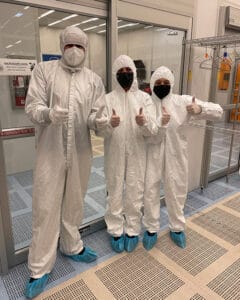 There are 15 such CAT programs across NYS, all located at Universities,  each with STEM-themed commercial market focus. The CUNY-ASRC Sensor CAT's theme is supporting the development of sensor-based technology in wide-ranging application areas from life sciences and biotechnology, to environmental and beyond. Launched just as the pandemic began shutting down day-to-day activities across the country, the Sensor CAT placed its early focus on helping STEM entrepreneurs develop sensor technologies that could help fight COVID-19.
Tavis Ezell, the ASRC Sensor CAT's business development director, said the CAT provides startups and small businesses a bridge to CUNY resources as they navigate the challenges of developing early-stage tech with limited funding and personnel. "Our program plays a vital role at the initial stage where companies must turn their scientific ideas into real, working prototypes," said Ezell, "CAT funding and guidance, together with CUNY resources, lessen the time and investment needed to get to the next phases of product development and attract larger funding sources to scale."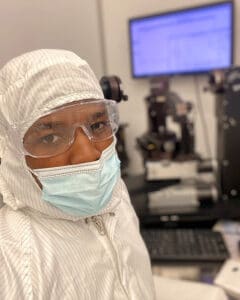 In addition to supporting STEM start-ups, the Sensor CAT also helps CUNY STEM students gain practical experience and employment opportunities.  Students have the chance to build entrepreneurship skills by shadowing start-up founders and experiencing firsthand how to build a company from scratch, source funding, and manage clients.  A good example is Adewumi Bakare, the Graduate Center's first Nanoscience MS program graduate and Scholtz's former intern. His time at Vyir, Inc. afforded him transferable skills that improved his chances of employment and launched him into a full-time position as an optical production engineer. The entire process provides a multiplier effect for start-ups by providing seed funding, access to research and development equipment, technical expertise and student workforce. It ultimately provides a win-win situation for the business, CUNY students, and New York State. 
For Scholtz, the Sensor CAT's support is helping him to envision an expansive future for his technology. "We hope to develop this tech and see how best it commercializes," he said. "If we can make infrared cameras cheap enough while keeping the image quality high, then we can talk about integrating infrared cameras into automobiles so you can drive at night, see through rain and fog, or spot a person or deer on your screen even if it's dark. With almost every application of infrared cameras, they make you more aware of what is going on around you, and that results in increased safety, reduces loss of lives and damage to property."
Written by Favour Achimba, a 2022 GC CUNY Science Communications Fellow