Posted on September 23, 2021 in ASRC News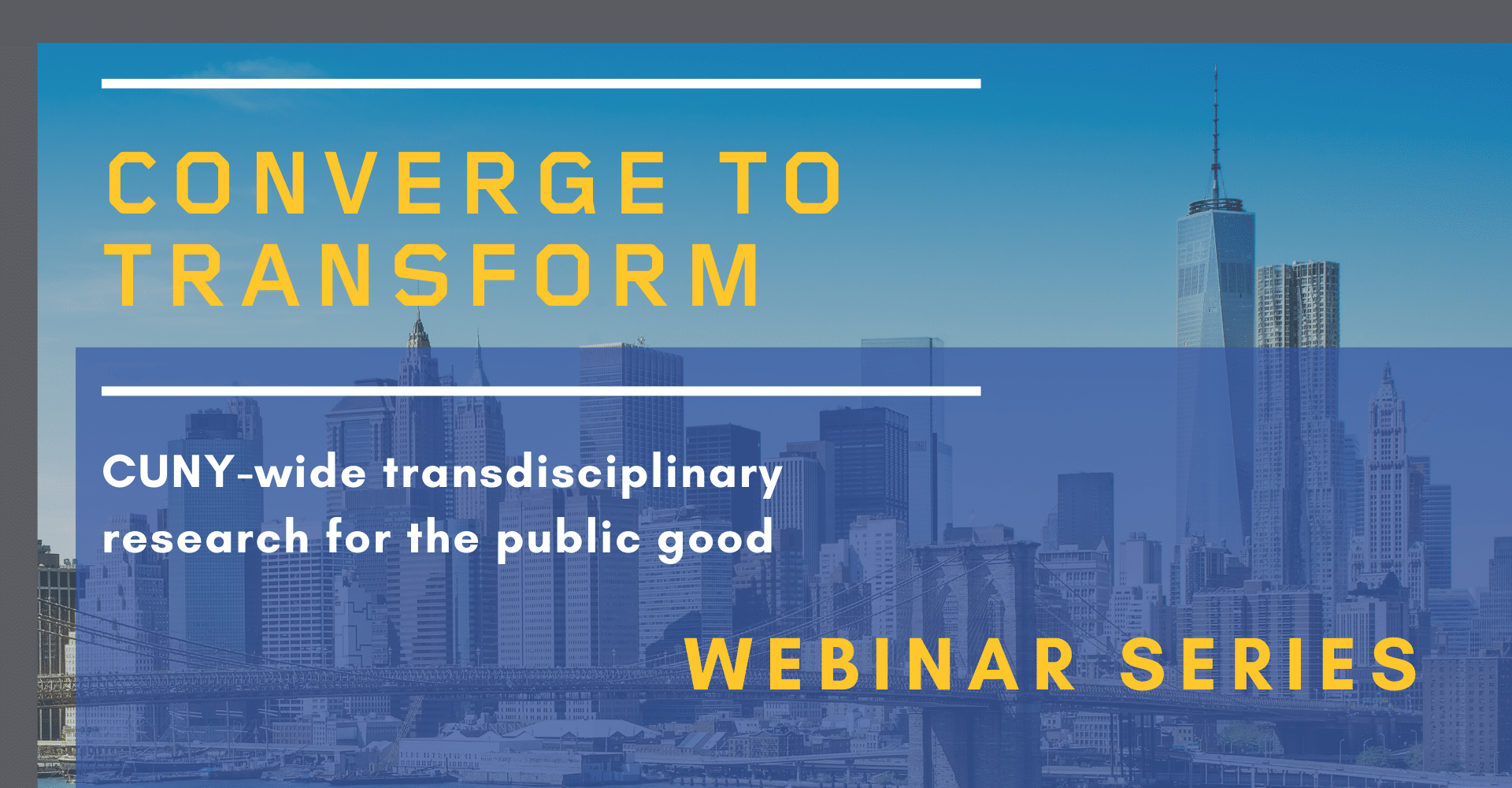 In a reimagined seminar series hosted by the Advanced Science Research Center at the Graduate Center, CUNY (CUNY ASRC), titled "Converge to Transform," six leading scientists will explain their interdisciplinary STEM research and how it impacts humanity and the planet.
The six-part series begins on Tuesday, September 28, and is open for all CUNY students, faculty, and staff to enjoy.
Researchers today must address a growing demand for technological advances and an expanding list of threats to human and environmental welfare. Solving these challenges requires scientists to work across disciplines in innovative and collaborative ways. "Converge to Transform" features researchers whose consequential work bridges many of the most dynamic areas of science, such as computational biology, nanotechnology, epigenetics, and environmental impacts on human health.
"We are bringing together top researchers from different disciplines to break down silos and enrich CUNY's undergraduate and graduate student training experiences," said Annette Gray, associate dean for the sciences at the Graduate Center and executive director of the CUNY ASRC. "This series is part of the CUNY ASRC's mission to advance interdisciplinary STEM research in the service of generating new technologies and solutions through creative thought and collaboration."
"Converge to Transform" kicks off on Tuesday, September 28, at 11 a.m. with a talk by Mikhail Shapiro, professor of chemical engineering at Caltech, who will present "Talking to cells: technologies to image and control cellular function deep inside the body." Shapiro's lab is developing technologies that take advantage of biomolecules with unusual physical properties allowing them to interact with sound waves and magnetic fields. These innovations are applied to problems in synthetic biology, neuroscience, cancer, immunology, and the mammalian microbiome.
On Friday, November 5, Robert Wright, professor and system chair of environmental medicine and public health at the Icahn School of Medicine at Mount Sinai, will discuss his work to examine chemical toxicity and the ways social stressors and genetics or epigenetics can modify toxicity.
Other series speakers include:
Ting Xu, professor of chemistry and materials science and engineering at the University of California, Berkeley. Xu researches complex systems of synthetic molecules, using them to develop materials with novel electronic, photonic, and biological properties.
Teri Odom, the Joan Husting Madden and William H. Madden, Jr. Professor of Chemistry and chair of the Department of Chemistry at Northwestern University. Odom works with precious metals, such as gold, copper, and platinum, controlling their shape at the 100-nanometer scale for applications in nanomedicine, photovoltaics, and imaging.
Rommie Amaro, professor and endowed chair of chemistry and biochemistry at the University of California, San Diego. Amaro's research focuses on computational and theoretical techniques used to study complex biological systems, with the goal of bridging basic science and clinical research.
Juan Pablo Giraldo, associate professor in the Department of Botany and Plant Sciences at the University of California, Riverside. Giraldo's work combines plant biology and nanotechnology to study and augment plants' physiological mechanisms.
The seminars will take place in a hybrid format, with capacity for up to 30 attendees in person in the CUNY ASRC's auditorium, and the remainder participating via Zoom. Participants will find links to register for each seminar, once scheduled, through the CUNY ASRC events webpage.
Published by the Office of Communications and Marketing.