Posted on November 6, 2020 in ASRC News
For undergraduates with a love of science, the CUNY Summer Undergraduate Research Program (CSURP) – sponsored by the CUNY Office of Research – provides opportunities to work hands-on in a full laboratory setting. Two CSURP students, Kelly Veerasammy and Yuki Chen (both undergrads at City College), share their experiences working at the ASRC, and how it has shaped their understanding of scientific research. The students worked with professor Ye He, director of the ASRC's Live Imaging and Bioenergetics Facility and collaborated with Yuanquan Song, of the University of Pennsylvania.  The work offered the undergraduate students the chance to be contributing authors on a recent article in Cell Metabolism focusing on the metabolic rewiring of glial cells that promote axon regeneration following spinal cord injury. Here's what they and professor He had to say about the experience.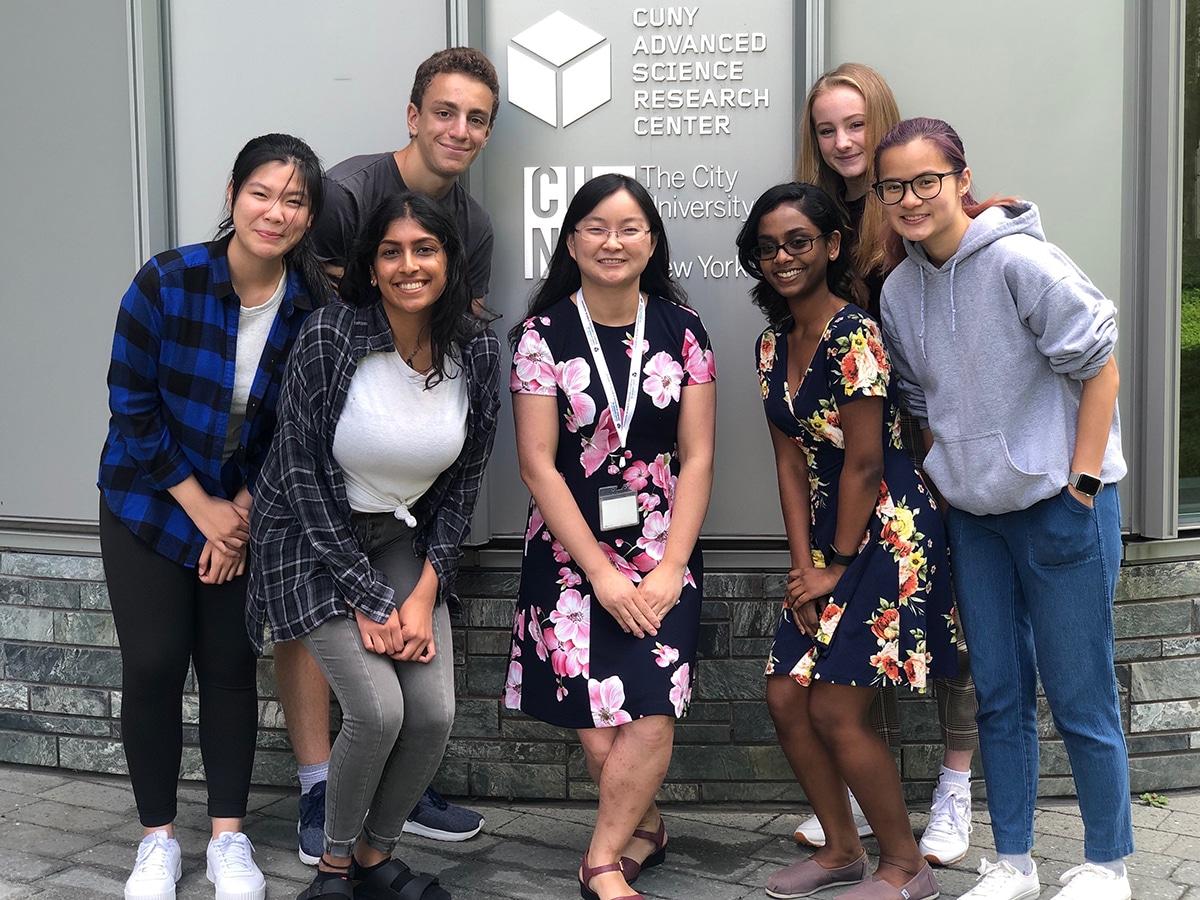 GC Sciences: Dr. He, could you give us the 30-second elevator pitch of the work you and your students contributed to?
Dr. He: Last summer we collaborated with Dr. Song of the University of Pennsylvania, an expert in axon regeneration and neurodegenerative diseases such as spinal cord injury. Achieving axon regeneration and functional recovery in the central nervous system is the holy grail of regenerative medicine. Dr. Song is determined to take on this challenge using the fruit fly as a nerve injury model. The fastest way to understand this is to visualize it, so we contributed our imaging expertise to find out what happens in the body after injury. Our work was done with the help of Dr. Jorge Morales at the Electron Microscopy (EM) facility at City College and Dr. Tong Wang and Dr. Sheng Zhang at the ASRC Nanoscience Imaging facility. Together with two talented high school students — Jessica and Alex — Yuki and Kelly processed samples, cryosectioned hundreds of tissue sections, and used EM to identify the pathology of injured axons and glial cells. This teamwork provided an overall image of the fruit fly spinal cord before and after injury for the first time.
GC Sciences: The CSURP program is a steppingstone for undergraduates interested in pursuing a research career. How did you each get interested in the program and has it shaped your plans for the future?
Yuki: I found out about the program through Dr. Ye, I was just starting out in her lab and heard of this opportunity to continue working at the ASRC over the summer. It's a program for college students interested in research. Not only does it provide the opportunity to be paired with a research mentor, but it also provides programing where every week there are two guest lecturers from all over CUNY. The topics are interdisciplinary and include everything from birdsong to how the researchers got to where they are today.  So, not only do we have the opportunity to work at the ASRC, but we also get a taste of different types of research that are possible in science.
Kelly: You described it well. I think my favorite thing that CSURP allowed me to do is to be more full time at the lab. During the semester you have to split your time to a few hours whenever it fits into your schedule, so it was really cool to be able to be there for the entire process. And really commit full time and have more time to understand the projects fully, which I think makes the whole experience more rewarding.
Yuki:  I also want to add, at the end we all had to do a poster session, so that also provided a great foundational experience to learn about science communication. Not only do you have to write and draft up your own poster, but you also have to be able to explain your research to others — to other scientists or to people who may not have a background in whatever it is that you are studying.  That meant breaking down the jargon used within your research area.
GC Sciences: The ASRC is an interdisciplinary setting with a lot of interaction between researchers in a variety of fields.  How has the ASRC made an impact on how you see science or how you see interdisciplinary, collaborative research?
Yuki: It's made me very hopeful for the future of science. I am an anthropology major, so I went into science and medicine with the idea that I want to broaden my understanding of the world through many different lenses. Coming to the ASRC and discovering that it also prides itself on interdisciplinary research makes me excited to see how there can be collaboration from nanoscience to environmental science. Maybe in the future, similar collaborations with the social sciences and "hard" sciences can also happen. It's made me think about the possibilities of interdisciplinary studies even more. Excited and hopeful would be how I would describe it.
Kelly: I agree, especially with the excited part. Before studying biomedical physics in college, I studied engineering in high school. Based on my experience in biomedical physics, I know that I am especially interested in medicine and neuroscience, and I have enjoyed taking psychology classes. From my broad experience, I know that you can be interested in many different things.  Seeing that embodied by the ASRC is really exciting. Even in our own project here we communicated with different floors, from nanoscience to structural biology Seeing how we all need each other to make some exciting research, it's really fun to be a part of. It makes me hopeful to see all the different places and new innovative research that can come out of working together.
Dr He: It is a similar feeling from the PI perspective. Before I joined the ASRC I came from a traditional college campus that had each discipline within its own building. You have to leave the building to talk with someone in another discipline. In the ASRC, it's amazing, we have five disciplines within one building; each is just on the next floor. I have a lot of opportunities to get to know other disciplines, learn new techniques, and create new tools for biomedical research and interdisciplinary research we've never imagined before.
Edited for length and clarity