Posted on September 17, 2020 in ASRC News, Environmental Sciences Initiative
A new project at the ASRC helps diverse students and New York City residents create low-cost environmental sensors and become advocates for a cleaner, healthier city.
Noisy streets, polluted air, contaminated soil. The environmental risks of urban living, particularly in a city as densely populated as New York, are well known. Equipped with low-cost environmental sensors, New Yorkers can become advocates for a safer, healthier environment.
That is the impetus of a new project at the Advanced Science Research Center at The Graduate Center.
The Community Sensor Lab, now emerging from its pilot phase, teaches New York City high school students how to build small sensors that can monitor everything from the level of carbon dioxide and pollutants in the air to acidity in the soil and water.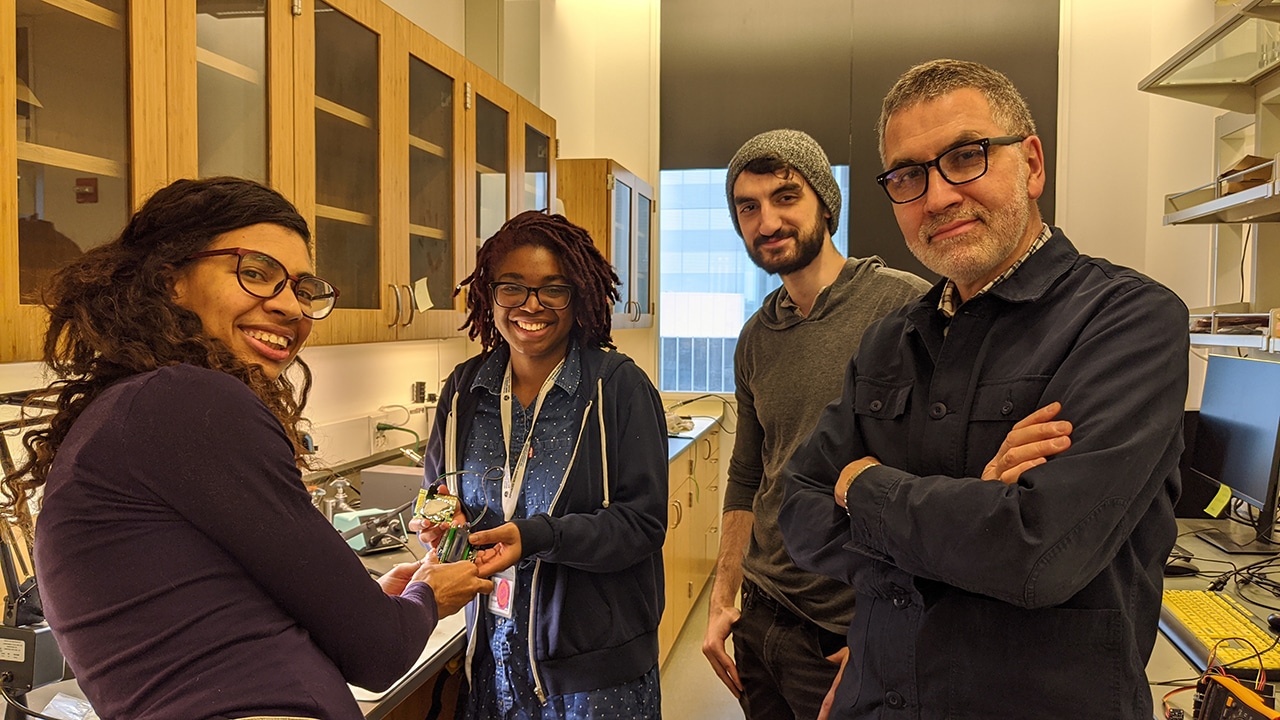 So far, eight students from two high schools — the Beacon School and High School for Health Professions and Human Services — have learned how to build carbon dioxide sensors using readily available, low-cost electronics. The main parts include an Arduino circuit board, which runs the system; a data logging shield and an SD card to store data; an LCD screen that displays the data; and the carbon dioxide sensor.
Carbon dioxide levels are a proxy for air circulation and ventilation — the more carbon dioxide in the air, the worse the ventilation. Poor air circulation has been linked to a number of health problems, from respiratory conditions like asthma to viruses like COVID-19.
This fall, more students are getting involved, and the project leaders plan to partner with urban farms and neighborhood organizations to reach New York City residents from different parts of the city, particularly lower income neighborhoods, which are the most susceptible to environmental hazards.
The ultimate goal is to create more citizen scientists. Participants learn basic engineering skills and with the data collected by their sensors, they can advocate for the health and safety of their communities.
The Community Sensor Lab is the brainchild of Kendra Krueger, the science education coordinator at the ASRC, and Professor Ricardo Toledo-Crow, director of the Next Generation Environmental Sensor Lab at the ASRC.
Krueger is trained as an electrical engineer. A resident of New York's Lower East Side, where she was born and raised, she has become an advocate herself, as the city begins demolishing and rebuilding East River Park, which was flooded during Hurricane Sandy. Krueger calls the city's approach "potentially not the best plan in terms of progressive environmental design."
For a long time she struggled with questions like, "How is all of this science and technology helping people?"
Even in STEM education, she says, "There's this big idea of how do we get science knowledge out to the people. But I think that there needs to be more emphasis on how do we bring people's knowledge into the science community."
As part of the Community Sensor Lab, Krueger made a short video explaining how to build a D.I.Y. carbon dioxide sensor.
Toledo-Crow has a Ph.D. in imaging science and optics, and his lab allows scientists to prototype a variety of environmental sensors, many of which are high-end and highly complex. But, he says, "I find it fascinating how much you can do with little resources. One of my ongoing challenges in science and throughout my life has been trying to push people to do more with less."
He adds, "I think the best science is typically done by people's people power."
Four CUNY students have worked with Krueger and Toledo-Crow on the project, helping to build sensors and develop curriculum and learning modules to teach students and other non-experts how to create and use the devices.
Toledo-Crow points out that there's a large, international online community of hobbyists who build and use environmental sensors "that's very supportive and very engaged." Instructables, a website and online community that started at the MIT Media Lab, offers a D.I.Y. sensor community with 16 projects that has attracted over 4,000 views. Toledo-Crow and Krueger want to broaden the D.I.Y. sensor community, inspiring people from diverse and marginalized backgrounds to join it.
Beyond teaching basic engineering, they also encourage program participants to "let their imaginations run wild" as they design and enhance their sensors, adding buzzers, lights, new measuring instruments, and more.
Scientists at the ASRC study air, water, and soil quality, and more, and Krueger and Toledo-Crow intend to work with them as the Community Sensor Lab expands and empowers New York City students and residents to build and tinker with sensors that could lead to a more livable, sustainable city.
If you're inspired to build your own sensor, you can register online to download instructions created by the Community Sensor Lab.