Posted on September 15, 2020 in ASRC News, Environmental Sciences Initiative, Featured News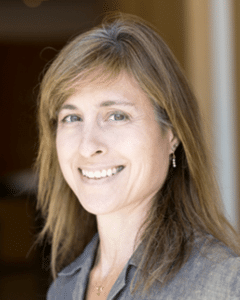 Since the beginning of August, Professor Dianne Greenfield (GC/Queens, Earth and Environmental Sciences/Environmental Sciences), members of her lab based at the Advanced Science Research Center (ASRC), and the laboratory of Professor Maria Tzortziou (GC/City, Earth and Environmental Sciences/Earth & Atmospheric Science) have been taking advantage of a completely novel "human experiment" — set in motion by the physical shutdowns tied to the COVID-19 pandemic — to investigate how sudden changes in activity is affecting the surrounding coastal and marine environments.
Their effort is part of a year-long study, funded by a National Science Foundation (NSF) Rapid Response Research (RAPID) grant of close to $200,000, of how stay-at-home orders and the unprecedented decline in commuting and travel in the New York City metropolitan area affected the waters of Long Island Sound. Specifically, the researchers are looking at how the drop in travel — by plane, car, train, and ship — affected by the deposition of atmospheric pollutants, particularly nitrogen, in the water. They hypothesize that these changes, along with shifts in patterns of nitrogen-rich wastewater effluents, alter the biogeochemistry and ecology of the city's coastal waters.
"Never in modern history have spatial and temporal trends of natural resource use been as drastically and significantly altered at a global scale than during the current COVID-19 pandemic," Greenfield says. "This study will provide unparalleled insight to how changes in human behavior can influence coastal water quality and microbial assemblages, using an urban estuary — Long Island Sound — as the study site. Results will impact both scientific and societal realms as well as inform biogeochemical and ecological models."
Greenfield and her research team are currently studying samples that were collected before the start of the pandemic. They chose to focus on Long Island Sound because it is the apex of the junction between Long Island, New York City, and Connecticut. During the shutdown, there have been substantial changes to the Metro-North schedules, for example, as ridership from commuters — such as Greenfield herself — declined precipitously. "We've evolved from a highly dynamic commuting society to one that relies primarily on remote connections," she says. "A big part of this is how people move in and out of the city, particularly the people who come into the city for work."
The grant funding the study is one of two that Greenfield recently secured as the lead researcher of a team. The NSF also awarded her and her collaborators just over $500,000 to purchase an autonomous underwater vehicle (AUV), a mobile, deployable device that enables detailed water column surveys at high-resolution spatial and temporal scales. The instrument will be based at the ASRC and will facilitate interdisciplinary research among faculty and students across CUNY's campuses.
Still, working during the pandemic has had its challenges, Greenfield says. "We've prioritized the health and safety of ourselves, family, and colleagues/students while trying to remain at least somewhat productive," she says. "Even though select — and significantly scaled-down —  socially distanced activities are gradually transitioning, such as this NSF-RAPID project, my lab is still largely working remotely to maintain a safe and healthy work environment."