Posted on December 6, 2019 in ASRC News
Science and art converge in an unusual exhibition featuring images of brain cells, photos of trees, and paintings inspired in part by the eyes of endangered animals.
The show, called Objects & objectivities: Convergences in epistemic divergence, is on display at The Graduate Center's Advanced Science Research Center.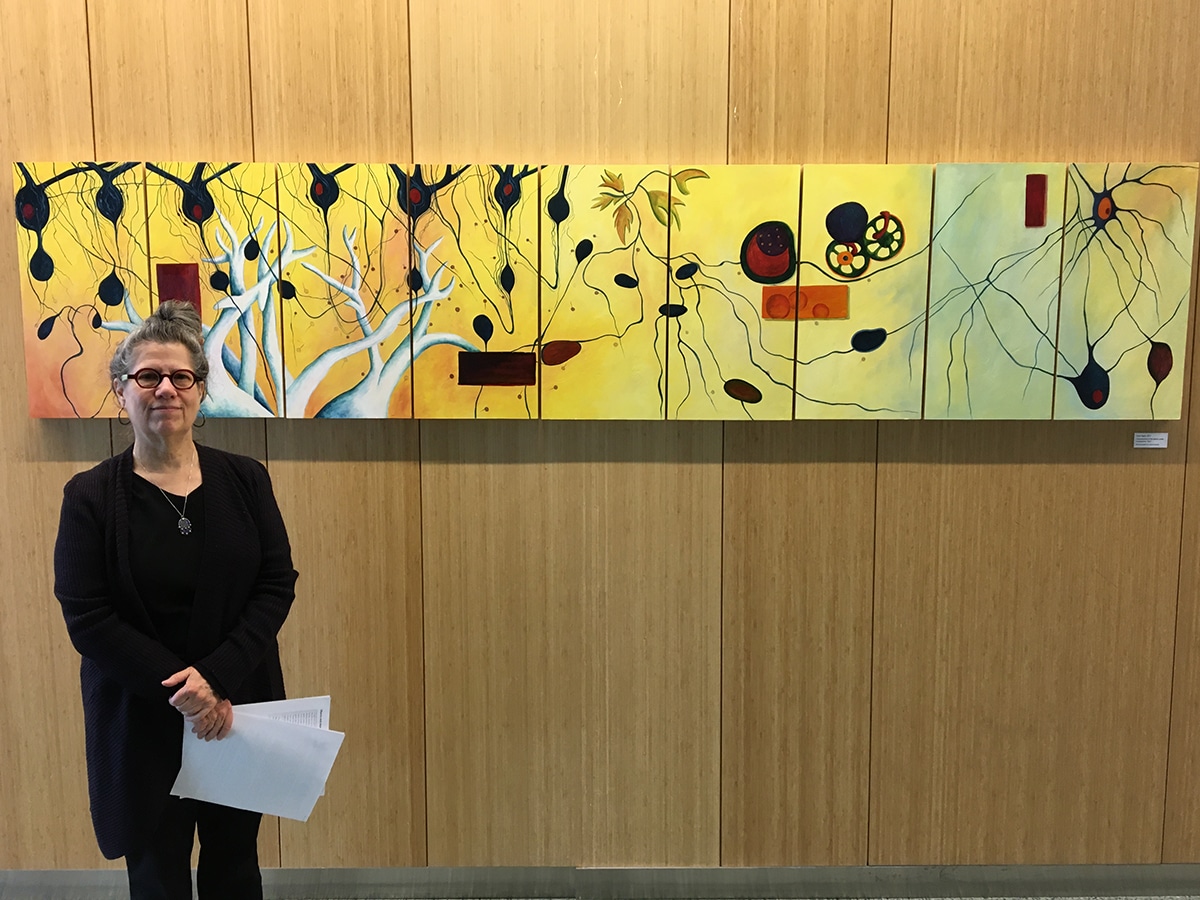 The project originated as a showcase for artwork by Linda Vigdor, associate director of proposal development at the ASRC. She decided the show would "be more meaningful" given its location in a research building if work by scientists appeared alongside her paintings. "So I invited a neuroscientist who I knew did imaging of the brain and an environmental scientist who I knew had images of tree cores and tree canopies," Vigdor said.
The brain cell images were taken by Ye He, ASRC core facility director. The pictures look like abstract swirls and colorful patterns, and some have poetic names like Nano Petal. But they are magnified images of actual neuron-glia interactions, illustrating changes in the brain during development, neurodegeneration, and functional interactions between nanomaterials and neurons.
The forest photos, shot with a fisheye lens pointed up at the blue sky, show circular tableaus of green leaves crisscrossed by dark tree trunks. Those images, and others offering close-ups of oak tree cores and rings, are the work of Professor Andrew Reinmann, (GC/Hunter; Earth and Environmental Sciences/Geology), a faculty member in the ASRC's Earth and Environmental Sciences Initiative. Reinmann studies the impact of climate change on northern hardwood forests.
The brain cells and trees are displayed on hallway walls alongside Vigdor's colorful paintings. Her work includes her artistic interpretations of brain cell networks, which she sees as "a metaphor for human consciousness," along with images of eyes — a zebra's, a whale's, and a polar bear's among others. Her broad theme, she says, is humanity's responsibility to nature.
The 20 works on display, Vigdor writes in her curator's statement, "present different orientations to objectivity as each investigates some aspect of the mechanisms, outcomes, and questions regarding the intersection of humans, the brain, and our environment, reflecting different epistemological lenses."
The exhibition was funded by Vigdor's PSC CUNY grant. The exhibit is open Monday to Friday, 9 a.m. to 5 p.m. through Dec. 21 at the ASRC (85 St. Nicholas Terrace, fourth floor, Manhattan).
Photo Gallery