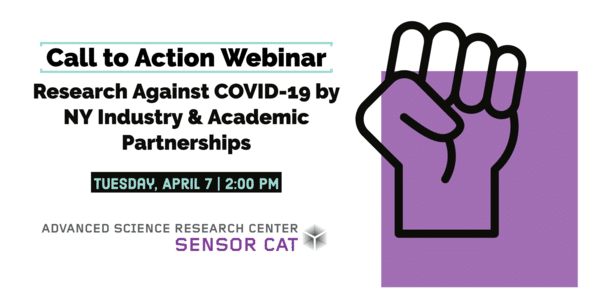 Post event update: The registration for this event is closed. Watch the webinar below or on YouTube, and read more about the event. For more information on how you can participate in the programs at ASRC Sensor CAT, please visit the Sensor CAT website or contact Tavis Ezell at tezell@gc.cuny.edu.
The ASRC Sensor Center for Advanced Technology (CAT) works hand-in-hand with state government to fund New York-based industrial development of advanced sensor technology. In light of the current COVID-19 crisis, the state is calling for swift thinking from our STEM community and for the ASRC to lend its state-of-the-art core facilities and expertise to support fast-track development and commercialization of technology that can be used to address the challenge of  preventing, managing and stemming infectious disease pandemics. ​
Please register for the webinar if you and your industry partner have a potentially applicable idea that could be immediately put into action with economic support from our CAT. We are devising means to open lab space at the ASRC for supported projects, and we have gained approval from New York state for ​additional flexibility in funding. We can also help you identify and match with your potential industry or academic partners.
We want to hear how we can support you and your industry partner's participation in the state's call to action. The April 7th webinar will be a critical opportunity to learn how ASRC Sensor CAT can support you and your industry partner's participation in this urgent to call to action, and to also explore what resources are immediately available in this time of crisis.
Questions?  
Contact Jiye Son, json2@gc.cuny.edu and Tavis Ezell, tezell@gc.cuny.edu
Schedule
2:00 pm
Research against COVID-19
Nina Gray, Executive Director of ASRC
Rein Ulijn, Director of ASRC Sensor CAT and Nanoscience Initiative
Tavis Ezell, Business Development Director of ASRC Sensor CAT
Ricardo Toledo-Crow, Director of Next Generation Environmental Sensors Facility at ASRC
2:15 pm
What are researchers doing?
Adam Braunschweig, Associate Professor, Nanoscience Initiative, ASRC
Alan Lyons, Professor, College of Staten Island
Christa Avampato, CEO, Double or Nothing Media
Jacob Trevino, Principal Scientist, Chemeleon
James Scholtz, CEO, VYIR Inc.
2:40 pm
Q&A Panel
Norman Sabio, Infectious Disease Specialist and Internal Medicine Practitioner
Rein Ulijn, Director of ASRC Sensor CAT and Nanoscience Initiative
Tavis Ezell, Business Development Director of ASRC Sensor CAT