Posted on August 23, 2023 in ASRC in the News, Photonics Initiative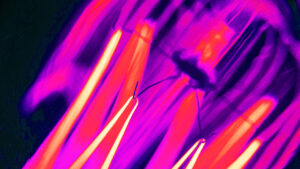 The five-year award will support Sfeir's work to investigate the infrared and terahertz properties of novel organic polymers that could enable design and development of advanced photonic and quantum-based technologies.
NEW YORK, August 23, 2023 — Physicist Matthew Sfeir is among 21 innovative mid-career scientists who will each receive $1.25 million from the Gordon and Betty Moore Foundation to pursue experimental physics research with the promise of significantly transforming understanding of physics and facilitating next generation technological breakthroughs.
The five-year Experimental Physics Investigator Award will allow Sfeir—a Photonics Initiative professor with the Advanced Science Research Center at the CUNY Graduate Center (CUNY ASRC) and a Physics professor with the Graduate Center—to measure the quantum properties of a unique set of conducting organic polymers using far-infrared and terahertz light sources. These materials have potential use in creating transparent electrical conductors that are small, flexible, lightweight, biocompatible and which enable novel designs for advanced photonic and quantum-based technologies.
"I'm very excited to be selected among this second cohort of researchers whose work is being supported by this unique and much-needed award," said Sfeir. "It can be challenging for researchers to find funding to develop ambitious new programs in experimental physics. The Moore Foundation's support will spur significant progress toward developing new capabilities, acquiring new knowledge and, ultimately, seeding technological breakthroughs."
"The 2023 Cohort of Investigators is an impressive group of scientists poised to change the experimental physics landscape," said Cathy Mader, Ph.D., Science program officer for the Moore Foundation. We look forward to supporting their work and enabling collaborations amongst them."
Sfeir will use the award to perform foundational studies that characterize the structure and behavior of a group of organic polymers that have unusual charge and spin properties that can be probed with low energy light. The polymers' "open shell" character means that the electrons within the material are unpaired, giving rise to unique emergent properties, including electrical conductivity. If successful, this research could be foundational to creating a new class of multifunctional organic electrical conductors and photoconductors that are flexible and light weight, and amenable to large-scale manufacturing. Such an achievement would help scientists overcome concerns that currently limit design and creation of next-generation technologies in a wide-variety of fields, including potential use cases for optomechanical and optoelectronic devices, sensors for the local chemical environment, and as photochemical reaction centers.
"The Moore award is a highly selective and prestigious grant, and it is fantastic to see professor Sfeir's work recognized at this level," said Andrea Alù, distinguished professor and Einstein professor of physics at the CUNY Graduate Center and founding director of the CUNY ASRC Photonics Initiative. "The award is a testimony of the impactful research he has been pushing forward since joining the Photonics Initiative, and his out-of-the-box, high risk/high reward work is very much in line with the type of innovative research we carry out here at the ASRC."
The Moore Award for Experimental Physics will fund the addition of a postdoctoral researcher and graduate student who will be dedicated to advancing Sfeir Lab's work in this area, and the purchase of new ultrafast laser equipment to facilitate highly sensitive transient studies at infrared and terahertz frequencies.
About the Advanced Science Research Center at the CUNY Graduate Center
The Advanced Science Research Center at the CUNY Graduate Center (CUNY ASRC) is a world-leading center of scientific excellence that elevates STEM inquiry and education at CUNY and beyond. The CUNY ASRC's research initiatives span five distinctive, but broadly interconnected disciplines: nanoscience, photonics, neuroscience, structural biology, and environmental sciences. The center promotes a collaborative, interdisciplinary research culture where renowned and emerging scientists advance their discoveries using state-of-the-art equipment and cutting-edge core facilities.
About the Graduate Center of The City University of New York
The CUNY Graduate Center is a leader in public graduate education devoted to enhancing the public good through pioneering research, serious learning, and reasoned debate. The Graduate Center offers ambitious students nearly 50 doctoral and master's programs of the highest caliber, taught by top faculty from throughout CUNY — the nation's largest urban public university. Through its nearly 40 centers, institutes, initiatives, and the Advanced Science Research Center, the Graduate Center influences public policy and discourse and shapes innovation. The Graduate Center's extensive public programs make it a home for culture and conversation.
The Gordon and Betty Moore Foundation fosters path-breaking scientific discovery, environmental conservation, patient care improvements and preservation of the special character of the Bay Area. Visit Moore.org or follow @MooreFound.