Posted on January 27, 2023 in ASRC News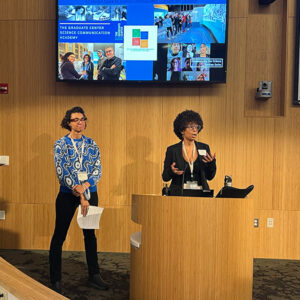 One of the most important things about being a scientist, or a bearer of any type of knowledge, is sharing it, or "bringing home the snap peas," as Beau Morton, director of environmental health and education at WE ACT, described it during their address to a group of CUNY STEM researchers, local community groups, advocates and other stakeholders. The audience gathered recently to learn more about the CUNY ASRC IlluminationSpace Hub (IS Hub), which was launched last spring as a collective space for science communication, outreach and education at CUNY.
The event facilitated an evening of community building between the CUNY STEM community, community groups, and other local stakeholders. It also gave guests an overview of the IS Hub's programs, which are designed to connect CUNY scientists and New York City communities in ways that make science more accessible, useful, relevant, and diverse. The offerings include, for example, a communications fellowship that trains CUNY STEM and journalism graduate students to become effective science communicators and an education outreach program that helps historically marginalized communities fight climate change through DIY environmental sensing technology.
"We need to acknowledge that we're all humans and that we're all creating part of this sphere of knowledge," said Kendra Krueger, the event's cohost and the CUNY ASRC's STEM outreach and education manager.  "I feel so grateful to be here at the ASRC because a big part of its vision was to create this idea of interdisciplinary science for the public good."
"Whether it's doing research to help address the local effects of climate change, elucidate the role of epigenetics in health outcomes, or enable the next generation of digital communications, CUNY STEM researchers do work that impacts the lives of New Yorkers every day," said event cohost Shawn Rhea, director of science media relations and community outreach at the Graduate Center.  "The IS Hub is a place where scientists and communities can come together to ensure the advances and educational opportunities emanating from the ASRC are available to all New Yorkers—especially those who've traditionally been excluded from STEM professions."
To learn more about our STEM outreach programs and events, visit http://bit.ly/3McfEDT