Posted on April 11, 2022 in Environmental Sciences Initiative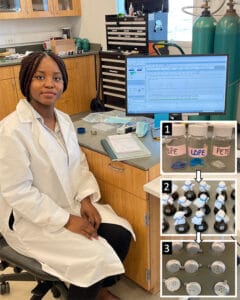 A study finds plastic materials that accumulate as waste in the environment may not degrade in the same way – calling for potential updates to how we think about plastic disposal and recycling.
By Katherine Anderson
As one of the cheapest and most convenient materials to manufacture, plastics are everywhere, and because of the high demand for single-use plastics, nearly 80% of plastic products are destined to end up in landfills or littered throughout our environment.
Brian Giebel, Ph.D., a research professor within the Environmental Sciences Initiative of the Advanced Science Research Center at the CUNY Graduate Center (CUNY ASRC) and director of the CUNY ASRC's Advanced Laboratory for Chemical and Isotopic Signatures, and Schidza Cime, a CUNY Summer Undergraduate Research Program fellow and a student at The City University of New York, have worked together to understand what happens to plastics in landfills and other soil environments where they accumulate as waste.
In a January 2022 publication in Science of the Total Environment, Giebel asks if various types of plastics degrade or break down differently over time even when exposed to similar environmental conditions. The types of plastics used in this study can be found in everyday items such as milk jugs, water bottles, and grocery bags.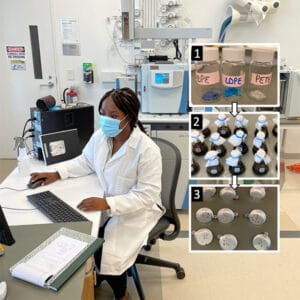 When asked to pinpoint the most important discovery of this study, Giebel said, "We found that the degradation and dynamics of plastic materials will likely be more dependent on each material's physical-chemical properties and less dependent on environmental conditions." The study, according to Giebel, may offer new insights into plastic disposal. Future studies may determine whether certain plastics can be composted into harmless products. Or, on the other hand, if more resistant plastics degrade through chemical, physical, or biological processes that occur in the environment.
Giebel emphasized that the research is in its early stages, and he hopes to understand soon how environmental factors, and particularly microbes, may influence or drive plastic degradation.
Giebel and Cime's work at the CUNY ASRC highlights the use of stable isotopes and isotope ratio mass spectrometry to help characterize the deterioration of plastics. The researchers also used other instrumentation available within the CUNY ASRC's core facilities that was suitable for the study of environmental plastics.
Cime, who won a highly competitive travel and research grant from Pfizer and the American Chemical Society, will be presenting their research in separate oral and poster sessions at the society's spring meeting in San Diego, California. After participating in this study, Cime reflects, "Being part of an advanced research environment at the ASRC gave me the opportunity to get a glimpse of what life would be like as I enter graduate school. I plan to apply for a Ph.D. program next year and this experience further convinced me that it was the right fit for me."
Written by Katherine Anderson, a 2022 GC CUNY Science Communications Fellow