Posted on September 9, 2016 in ASRC in the News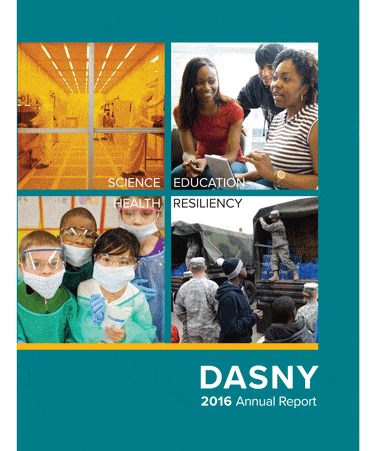 The City University of New York's Advanced Science Research Center was featured in the Dormitory Authority State of New York (DASNY) 2016 Annual Report as one of its Success Stories for the previous year, highlighting the ASRC's innovative design and mission.
The construction of the ASRC and its neighbor, The City College of New York's Center for Discovery and Innovation, are the highest value projects in DASNY's history. Founding Executive Director Gillian M. Small, Structural Biology Initiative Director Kevin H. Gardner and Environmental Sciences Initiative Director Charles J. Vörösmarty were each highlighted in the story .
"Being in the same building here, communicating with people who are in different areas, you don't know what you will find," Vörösmarty said in the report. "It will occur with environmental people talking to the cell biology people who then talk to the nanoscience people. Then everyone comes back to the table and talks about human health, the provision of water supply. That kind of thing is catalytic and we are set up to do that."