Posted on June 7, 2016 in ASRC News, Nanoscience Initiative
Research on the design of fully reconfigurable magnetic nanopatterns whose properties and functionality can be programmed and reprogrammed on-demand conducted by CUNY Advanced Science Research Center (ASRC) Professor Dr. Elisa Riedo and collaborators in Milan is featured on the June 2016 issue of Nature Nanotechnology.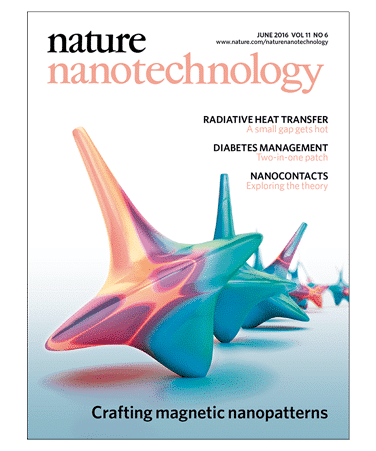 The paper—led in tandem with Riccardo Bertacco, a professor with the Nanomagnetism group of Politecnico di Milano—concentrates on thermal scanning probe lithography and the usage of a hot nano-tip to perform a highly localized field heating and cooling in antiferromagnetic and ferromagnetic thin films. The hot tip is then used to align the spins in the material in any desired direction with nanoscale resolution.
"This work demonstrates how thermal scanning probe lithography is gaining momentum as a key nanofabrication method for the next generation of nanodevices, from biomedical sensing to sprintronics," Riedo said.
The technique—called thermally assisted magnetic scanning probe lithography (tam-SPL)—makes it possible to craft, at the nanoscale, the magnetic properties of films involved in future microchips, according to Dr. Edoardo Albisetti, the first author for the paper.
This technique differs from conventional ones that typically involve "cutting out" areas with a specific shape from a film, through classical (optical or electronic) lithography techniques. With the new technology, writing the desired structures is accomplished through a localized heating and cooling cycle, produced by the hot tip of an atomic force microscope.
"The technique operates as if one was writing on a blackboard, with the possibility of modifying, deleting and rewriting the desired traces," Albisetti said. "Indeed, the material does not undergo any morphological or chemical alteration, therefore the patterning is fully reversible and reconfigurable."
This new, innovative technique for developing nanomagentic circuits is the feature of this issue of Nature Nanotechnology, and the latest of many covers featuring researchers at the CUNY ASRC.
This work was funded by the Department of Energy, Office of Basic Energy Sciences.
The full version of the study is available here.
###
About the ASRC: The CUNY Advanced Science Research Center (ASRC) is a University-wide venture that elevates CUNY's legacy of scientific research and education through initiatives in five distinctive, but increasingly interconnected disciplines: Nanoscience, Photonics, Structural Biology, Neuroscience and Environmental Sciences. Led by Dr. Gillian Small, Vice Chancellor for Research and the ASRC's executive director, the center is designed to promote a unique, interdisciplinary research culture. Researchers from each of the initiatives work side by side in the ASRC's core facilities, sharing equipment that is among the most advanced available. Funding for the ASRC from New York State is gratefully acknowledged.
###