Posted on October 27, 2015 in ASRC News, Nanoscience Initiative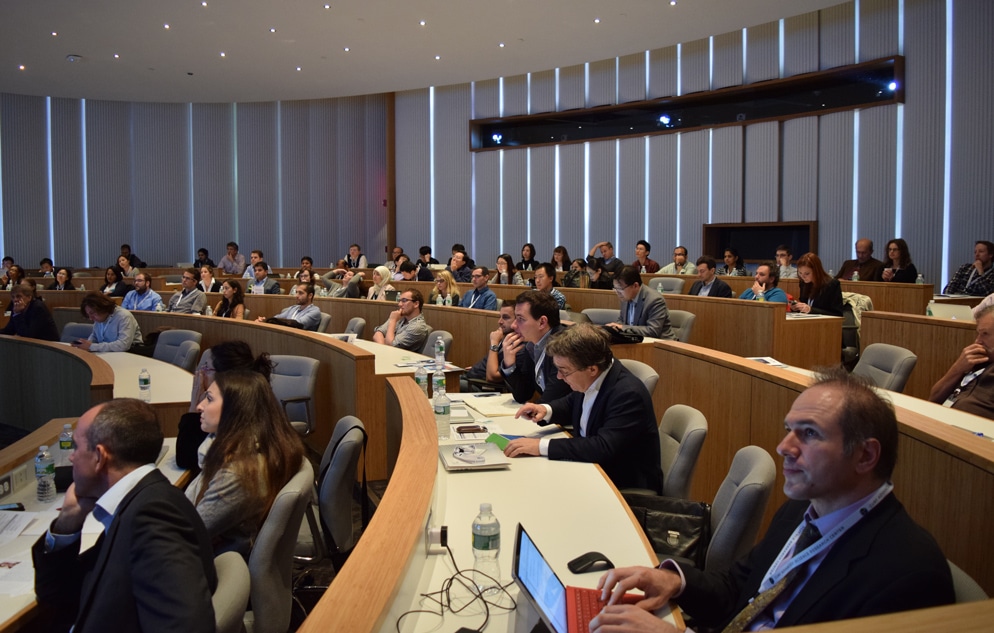 The CUNY Advanced Science Research Center (ASRC) Nanoscience Initiative hosted its latest iteration of the Nanoscience NY series, Active & Adaptive Materials, on October 22 and 23.
Featuring an international group of speakers, including Dr. Lee Cronin of the University of Glasgow, Dr. David G. Lynn of Emory University, Dr. Jan van Esch from Delft University of Technology and Dr. Samuel I. Stupp of Northwestern University (pictured below), the program focused on a number of different research fields in nano-molecular chemistry.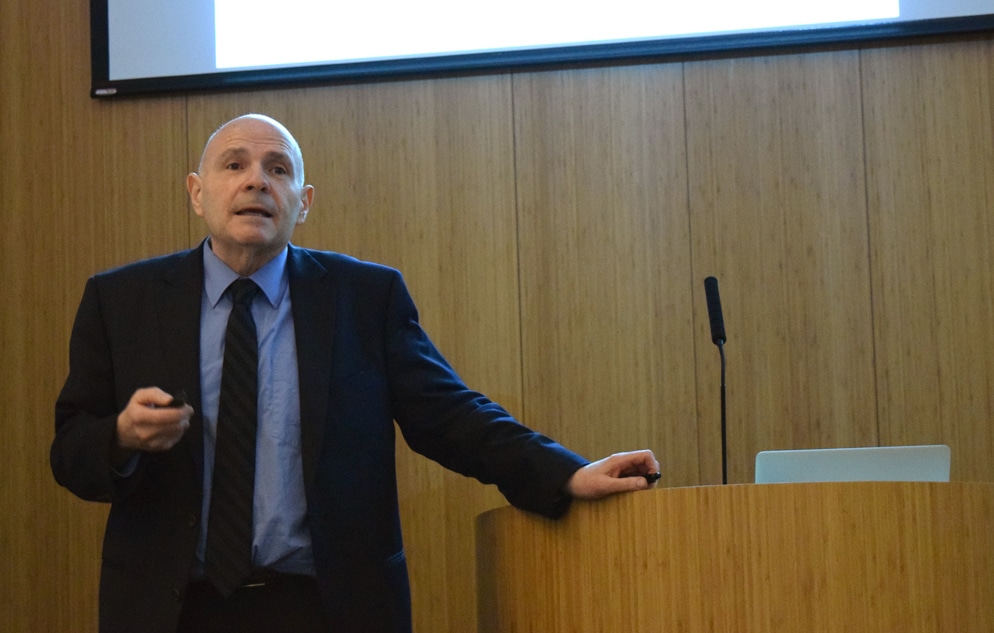 "I was very pleased with the outstanding and thought-provoking discussions that took place over both days," said Dr. Rein V. Ulijn, Director of the ASRC Nanoscience Initiative. "The collection of presentations was extremely broad, providing a truly comprehensive view on the state of the art in the emerging field of active and adaptive nanotechnology. As New York's new focal point for high end research in Nanoscience, I look forward to seeing how the ASRC and the Nanoscience Initiative can help provide the tools needed to continue these advances."
After the first day's symposium sessions, Dr. Cronin led a talk titled "The Evolutionary Genesis Machine," a discussion on how chemists may go about creating new types of truly synthetic life, put on in coordination with the NYC Skeptics Society. Talks from Dr. Elisa Riedo of the ASRC and The City College of New York, Dr. Adam Braunschweig of the University of Miami and Dr. Andreas Walther of Aachen University highlighted the second day's session.
Nearly 100 attendees took part in the two-day symposium, which also included a poster session on the ASRC's ground floor.Four submissions were awarded prizes — the Soft Material and Materials Horizon award winners received a year's subscription to each respective journal, while the Applied Polymer Science and Advanced Science award winners received book vouchers:
Soft Material — Peter A. Korevaar (Harvard University)
Materials Horizon — Noemie-Manuelle Dorval Courchesne (Harvard University)
Applied Polymer Science — Lye Lin Lock (Johns Hopkins University)
Advanced Science — Ekaterina Selivanovitch (St. John's University)
###
About the ASRC: The new CUNY Advanced Science Research Center (ASRC) is a University-wide venture that elevates CUNY's legacy of scientific research and education through initiatives in five distinctive, but increasingly interconnected disciplines: Nanoscience, Photonics, Structural Biology, Neuroscience and Environmental Sciences. Led by Dr. Gillian Small, Vice Chancellor for Research and the ASRC's executive director, the center is designed to promote a unique, interdisciplinary research culture. Researchers from each of the initiatives work side by side in the ASRC's core facilities, sharing equipment that is among the most advanced available. Funding for the ASRC from New York State is gratefully acknowledged.
###