Posted on September 24, 2015 in ASRC News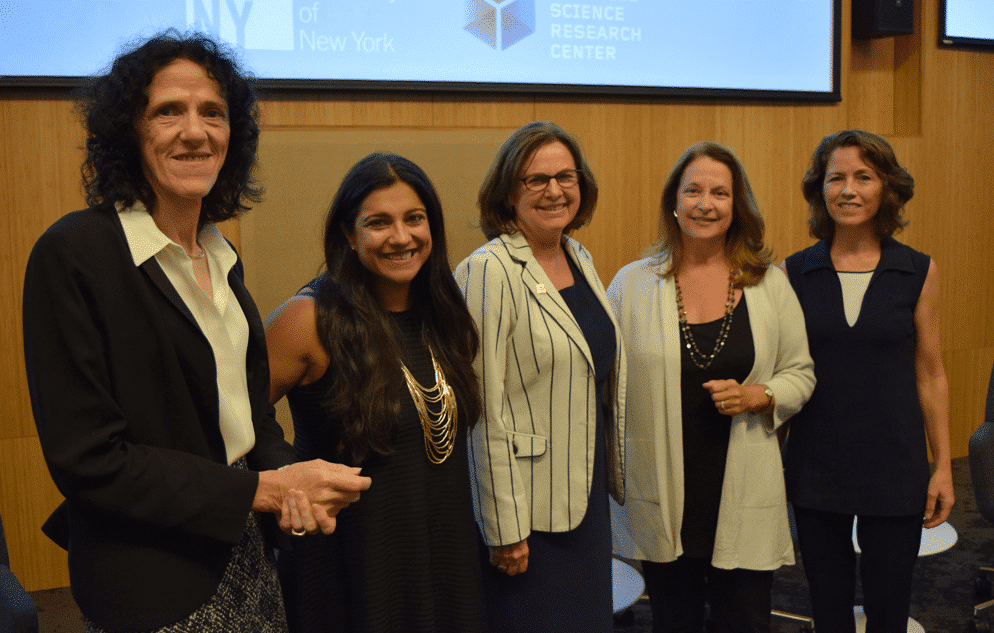 Leaders from academe and the non-profit sector spoke to a near-capacity audience at the 2015 CUNY Women in Science forum, Breaking Barriers to Success, at the CUNY Advanced Science Research Center (ASRC) on Thursday, September 24th.
Featuring keynote speaker Dr. Wendy Suzuki, Professor of Neural Science and Psychology at New York University, the program highlighted some of the many challenges faced by women in STEM (science, technology, engineering and mathematics) disciplines.
"I am thankful to Dr. Suzuki and the highly accomplished members of both of the panels for thought-provoking discussions on topics that are so important to women building careers in STEM fields," said Dr. Gillian Small, Vice Chancellor for Research and Executive Director of the CUNY ASRC. "The lively discussion with the audience contributed to the success of the program for all involved ."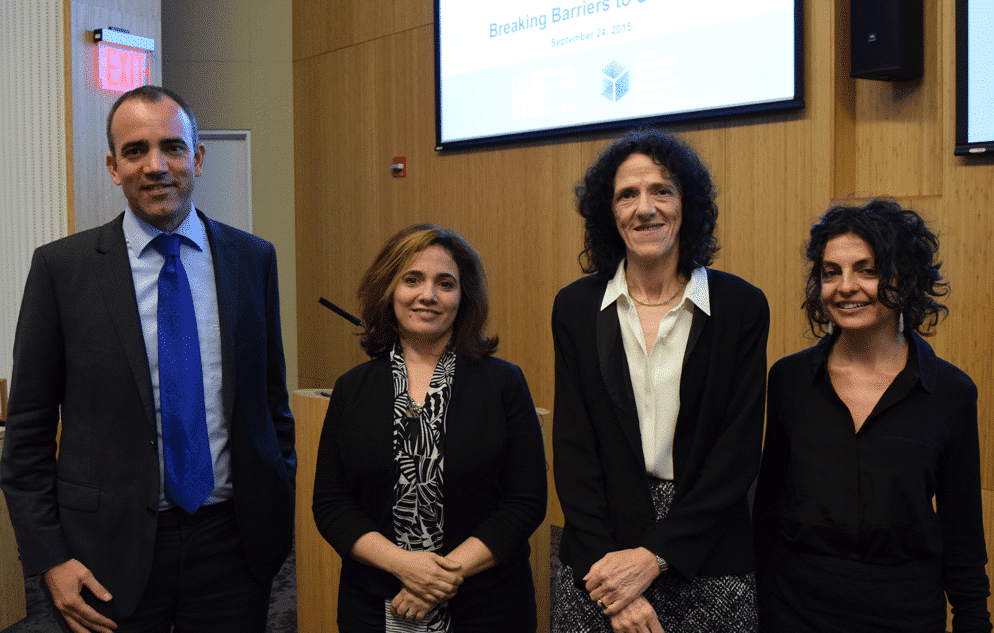 Suzuki, whose widely acclaimed research centers on the impact of exercise on improving neural connections and the author of the recently published Healthy Brain, Happy Life, spoke about how taking risks helped shape her professional focus. After the initial excitement as a faculty member at NYU began to erode, the introduction of a fitness regimen made a profound impact on her career. As a practical demonstration on the benefits of exercise, she led the audience in a brief workout that combined positive affirmation with aerobic movements, a regular feature of the coursework she developed.
"I built a regular exercise practice, and I noticed several things: one, my mood went through the roof," Suzuki said. "My energy was much, much better. When I was in my lab before I thought putting my head down and working all the time meant that I would be maximally effective, but that was not true."
The two panel discussions addressed disparate aspects of professional development in science. The initial panel included successful women leaders from outside of academe who spoke candidly about what it took for them to achieve success in their careers. The panel was moderated by LaGuardia Community College President Dr. Gail Mellow and featured Tracy Day, Co-Founder and CEO of the World Science Festival; Reshma Saujani, Founder and CEO of Girls Who Code; and Susan L. Solomon, Co-Founder and CEO of The New York Stem Cell Foundation.
After a short networking break, the second panel featured highly accomplished researchers from STEM disciplines and the myriad issues they experienced and observe affecting women scientists. Dr. Small moderated the discussion, which featured Dr. Michal Lipson, Professor of Electrical Engineering at Columbia University; Dr. Elisa Riedo, Professor of Physics at the CUNY ASRC; and Dr. Rein V. Ulijn, Director of the CUNY ASRC Nanoscience Initiative.
Speakers from both panels repeatedly emphasized the need to take risks and persevere in the face of failure. Saujani, who served as the New York City Deputy Public Advocate prior to starting Girls Who Code, said her motivation to stretch herself personally and professionally led to some of her biggest successes.
"I have gotten rejected over and over again, and I've failed over and over again, and it's because of my desire to fail," Saujani said. "I put myself out there and that's how a woman who doesn't code starts an organization called Girls Who Code."
Breaking Barriers to Success was the latest in a popular and long-running series of Women in Science programs. Begun in 2010 by the CUNY Office of the Vice Chancellor for Research, the series features a variety of events, lectures and seminars to address areas of interest and concern for women students, faculty and professionals in STEM.
###
About the ASRC: The new CUNY Advanced Science Research Center (ASRC) is a University-wide venture that elevates CUNY's legacy of scientific research and education through initiatives in five distinctive, but increasingly interconnected disciplines: Nanoscience, Photonics, Structural Biology, Neuroscience and Environmental Sciences. Led by Dr. Gillian Small, Vice Chancellor for Research and the ASRC's executive director, the center is designed to promote a unique, interdisciplinary research culture. Researchers from each of the initiatives work side by side in the ASRC's core facilities, sharing equipment that is among the most advanced available. Funding for the ASRC from New York State is gratefully acknowledged.
###