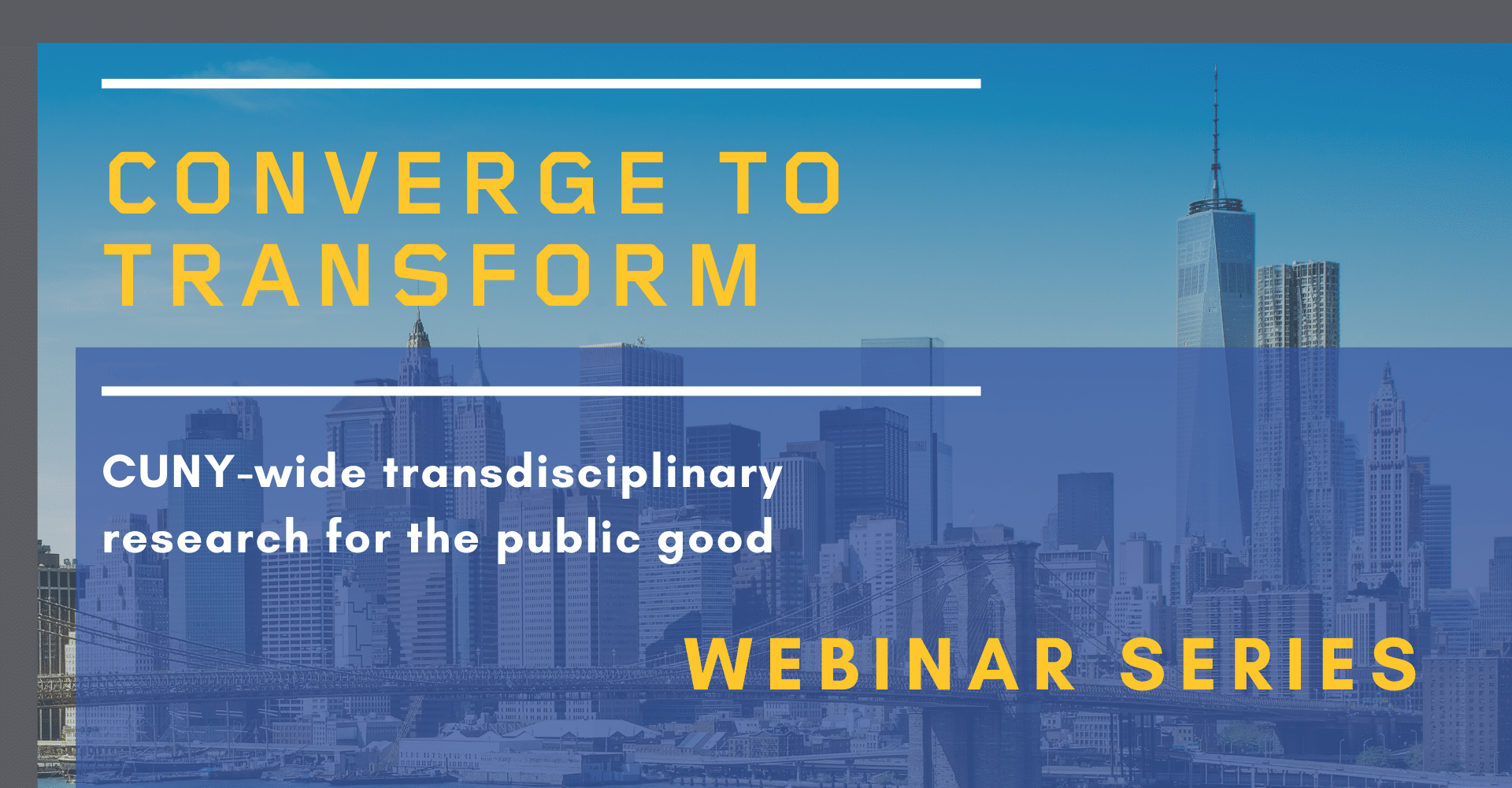 This event is the fourth webinar in the Converge to Transform series.
Converge to Transform is a webinar series to engage the CUNY community and key stakeholders in the vital task of shaping the future of our interdisciplinary, transdisciplinary, and convergence research programs for the public good. Events in the series will include keynote presentations, online talks and virtual Twitter poster sessions.
Program
2:00 pm
Introduction & Welcome Remarks
Annette "Nina" Gray, Ph.D., Executive Director, ASRC and Associate Dean for the Sciences, The Graduate Center
Rein Ulijn, Ph.D., Director, ASRC Nanoscience Initiative and Einstein Professor of Chemistry, Hunter College
2:05 pm
Research Keynote: Extracellular Vesicle Therapeutics
Joy Emelie (Joy) V. Wolfram, Ph.D., Assistant Professor of Medicine, Mayo Clinic
Impact Area Talks: Hacking Biology to Advance Medicine 
2:35 pm
Targeting the Oncogenic Mutant p53 Protein to Detect and Treat Triple Negative Breast Cancer
Jill Bargonetti, Ph.D., Professor, Department of Biological Sciences, Hunter College
2:50 pm
Discovery and Development of Artificial Nucleic Acid Ligands to Probe Cellular Interactions
Prabodhika Mallikaratchy Ph.D., Associate Professor of Chemistry, Lehman College, CUNY
3:05 pm
Implantable Nanosensor Detection of an Ovarian Cancer Biomarker In Vivo
Ryan Williams, Ph.D., Assistant Professor, Department of Biomedical Engineering, The City College of New York
3:20 pm
Moderated Q&A
3:30 pm
Breakout Discussion Session (Optional)
Registration
Registration is required. Only registered participants will receive instructions on how to join and be eligible to participate in the virtual poster session. Instructions and event updates will be emailed to your registered email.
Note that you do NOT need to register again if you signed-up previously for the original, in-person event. Contact asrc.event@gc.cuny.edu with questions.
---
Thank you to our sponsors: