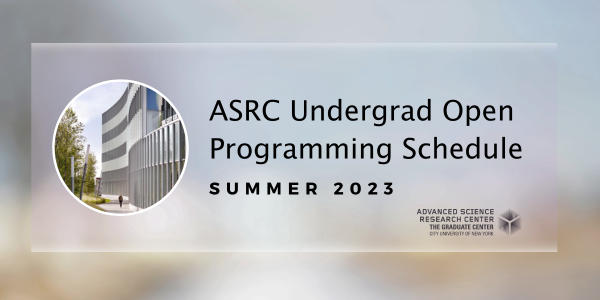 This undergraduate programming series has been specifically developed for undergraduates participating in research during the summer of 2023. Undergraduates are also welcome to attend any additional open programming advertised on the ASRC website.
Some events are tentative, therefore please continue to check back here for updates. Please note: your specific program may have additional meetings/ events not listed on the calendar below.
Events using Zoom will require you to first register via the links below and then you will receive a Zoom link via email.
Contact Kendra Krueger at kkrueger@gc.cuny.edu with further questions around ASRC open programming.
Date
Event
Time
Location
5/9/2023
Mentor Training Workshop: Open to all summer mentors or those interested in mentoring
2:30-4:00 pm
ASRC Seminar Room
Week 1
6/5/2023
ASRC Summer Student Orientation & Lunch:

Building Tour, summer programing, students get ID cards and network access

11:00 am-2:00 pm

Lunch at 1pm

ASRC Auditorium – Café
6/6/2023
Mandatory Lab Safety Training
1:00pm – 3:00pm
Virtual
6/9/2023
CUNY Student SciComs Symposium: Communicating Your Science
10:00 am- 3:00 pm
RSVP: https://bit.ly/3W06RLt
Week 2
6/15/2023
Science Communication/Illumination Space
2:00 pm – 4:00 pm
ASRC Seminar Room
6/15
PRIDE month Open Mic &  Art Showcase
4:00 pm – 7:00 pm
Cafe/Terrace
Week 3
6/20/2023
Intro to ASRC – Structural Biology
2:00 pm – 3:00 pm
ASRC Seminar room/ Zoom
TBD
St Nicholas Park Clean Up Day
Week 4
6/27/2023
Intro to ASRC Photonics
2:00 pm – 3:00 pm
ASRC Seminar room/ Zoom
Week 5
July 4th Holiday
Week 6
7/10/2023
July Orientation & Lunch: Building Tour, summer programing, students get ID cards and network access
10:30 pm – 1pm
ASRC Auditorium & Cafe
7/13/2023
Intro to ASRC – Neuroscience
2:00 pm – 3:00 pm
ASRC Seminar room/Zoom
TBD
July Lab Safety Training
Week 7
7/18/2023
Apply to Grad School: How to Prepare and What to Expect
2:00 -3:30 PM
Virtual
7/20/2023
Intro to Environmental Science
2:00 pm – 3:00 pm
ASRC Seminar room/Zoom
7/20/2023
ASRC-Wide Ice Cream Social
12:00 pm – 3:00 pm
ASRC North Terrace
Week 8
7/24/2023
Intro to ASRC Nanoscience
2:00 pm – 3:00 pm
ASRC Seminar room/Zoom
Week 9
8/1/2023
From Bench To Bedside: Science Innovation and Technology
2:00 pm – 3:00 pm
Virtual
Week 10
8/10/2023
Poster Session at CCNY & End of Summer Celebration
10:30am-1:30pm

2:30 pm -4:30pm

CCNY (poster session)

ASRC/CDI Plaza (celebration)
Additionally, the safety training schedule can be found here: EHOS Training Schedule June 2023
Thomas Dickson
Director of EHOS
email: tdickson@gc.cuny.edu