Assistant Professor

,

Nanoscience Initiative

Assistant Professor of Chemical Engineering

,

The City College of New York
Xi Chen is an Assistant Professor in the Nanoscience initiative at the CUNY ASRC and the Department of Chemical Engineering at the City College of New York since August 25th, 2016. Prior to his appointment, he was a postdoctoral fellow in Biological Sciences at Columbia University working with Prof. Ozgur Sahin. He earned his Ph.D. in Mechanical Engineering from Stevens Institute of Technology after receiving his B.S. and M.S. degrees from Tsinghua University. His research of smart materials, nanotechnology, and energy harvesting has led to over 20 publications in leading scientific journals and conferences. In addition to its academic standing, his work has been featured in popular media as well, including The New York Times, The Wall Street Journal, the BBC and many others. He is also the recipient of numerous awards from the National Science Foundation, the American Society of Mechanical Engineers and others.
Research Interests
Professor Chen develops the next generation of sensors, actuators, energy conversion and storage devices by using novel nanostructured and bio-inspired functional materials. His recent work on water-responsive materials and evaporation-driven engines opens up a new field in energy harvesting and provides opportunities towards solving current challenges in sustainable energy, energy storage, clean water, robotics, and medical technologies.
Job History
2016 – Current: Assistant Professor, Nanoscience Initiative, Advanced Science Research Center at The Graduate Center, CUNY
2016 – Current: Assistant Professor, Department of Chemical Engineering, City College of New York
2012 – 2016: Postdoctoral Research Scientist, Columbia University, NY
2007 – 2012: Ph.D. Candidate in Mechanical Engineering, Stevens Institute of Technology, NJ
2005 – 2007: M.S. Precision Instruments in Mechanical Engineering, Tsinghua University, Beijing, China
2005: B.S. Mechanical Engineering, Tsinghua University, Beijing, China
Publications
Title
F.K. Sheehan, H. Wang, D. Podbevšek, E. Naranjo, J. Rivera‐Cancel, C. Moran, R.V. Ulijn, X. Chen,
Aromatic Zipper Topology Dictates Water‐Responsive Actuation in Phenylalanine‐Based Crystals
,
Small
,
2023
, 2207773.
N.A. Alcantar, S. Banta, A.D. Cak, X. Chen, C. DelRe, L.F. Deravi, J.S. Dordick, B.M. Giebel, D. Greenfield, P.M. Groffman, M. Holford, G. John, N.S. Joshi, N.A. Kotov, J. K. Montclare, B.S. Moore, J.H. Ortony, A.B. Reinmann, J. Son, R.E. Stark, R.V. Ulijn, C.J. Vörösmarty, C.J. Wilson, Bioinspired Green Science and Technology Symposium in NYC, Matter, 2022, 5, 7, 1980-1984.
H. Wang, Z.-L. Liu, J. Lao, S. Zhang, R. Abzalimov, T. Wang, and X. Chen, High Energy and Power Density Peptidoglycan Muscles through Super-Viscous Nanoconfined Water, Advanced Science, 2022, https://doi.org/10.1002/advs.202104697.
R. Piotrowska, T. Hesketh, H. Wang, A. Martin, D. Bowering, C. Zhang, C. Hu, S.A. McPhee, T. Wang, Y. Park, P. Singla, T. McGlone, A. Florence, T. Tuttle, R.V. Ulijn, and X. Chen, Mechanistic insights of evaporation-induced actuation in supramolecular crystals, Nat. Mater., 2021, 20, 403-409.
Y. Jung, S.S. Golru, T.-D. Li, E.J. Biddinger, R.S. Tu, and X. Chen, Tuning water-responsiveness with Bombyx mori silk-silica nanoparticle composites, Soft Matter, 2021, 17, 7817-7821.
Y. Park and X. Chen, Water-responsive materials for sustainable energy applications, Journal of Materials Chemistry A, 2020, 8, 15227-15244.
Y. Park, Y. Jung, T.-D. Li, J. Lao, R. Tu, X. Chen, β-Sheet Nanocrystals Dictate Water Responsiveness of Bombyx Mori Silk, Macromolecular Rapid Communications, 2020, 1900612.
A.H. Cavusoglu, X. Chen, P. Gentine and O. Sahin, Potential for natural evaporation as a reliable renewable energy resource, Nature Communications, 2017, 8, 617.
X. Chen, D. Goodnight, Z. Gao, A.H. Cavusoglu, N. Sabharwal, M. DeLay, A. Driks and O. Sahin, Scaling up nanoscale water-driven energy conversion into evaporation-driven engines and generators, Nature Communications, 2015, 6, 7346.
X. Chen, L. Mahadevan, A. Driks and O. Sahin, Bacillus spores as building blocks for stimuli-responsive materials and nanogenerators, Nature Nanotechnology, 2014, 9, 2014.
Jinwei Li, Xi Chen, Weihe Xu, Chang-Yong Nam, and Yong Shi, TiO2 nanofiber solid state dye sensitized solar cell with thin TiO2 hole blocking layer prepared by atomic layer deposition Thin Solid Films 536, 275-276 (2013).
Weihe Xu, Jinwei Li, Guitao Zhang, Xi Chen, Richard Galos, Hamid Hadim, Ming Lu, Yong Shi, A low-cost MEMS tester for measuring single nanostructure's thermal conductivity Sensors and Actuators A 191, 89–98 (2013).
Xi Chen, Shiyou Xu, Nan Yao, and Yong Shi, Young's modulus determination of unpolled electrospun PZT nanofibers Science of Advanced Materials 4, 847-850 (2012). (Invited)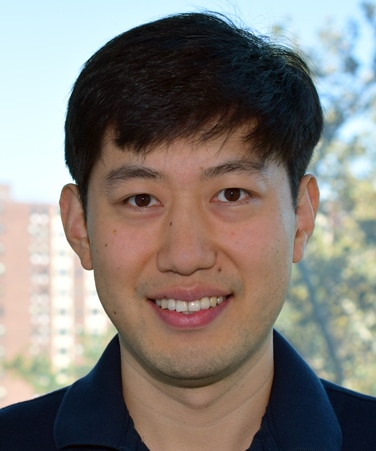 Email
Web Site