Nanoscience and Nanotechnology are at the forefront of scientific advancements in medicine, materials, manufacturing, electronics, catalysis, and energy. These rapidly expanding research streams bring an increasing number of funding and career opportunities, and enable innovative technologies with high societal impact.
CUNY boasts state-of-the-art research facilities and instrumentation, including the Advanced Science Research Center (ASRC) – a hub for nanoscience in New York City, and the opportunity to learn revolutionary science form world-leading research professors.
Through Ph.D. programs in chemistry, biochemistry, or physics with research in nanoscience, The City University of New York (CUNY) is positioning its graduates to become part of this emergent field.
Eligible students can apply to the NanoBioNYC Fellowship, funded by NSF, to develop ground breaking bio-nanoscience solutions to address urgent issues relating to human and planetary health and prepare to become tomorrow's leaders in diverse STEM careers.
Apply now for Fall 2024 for Chemistry (deadline January 1, 2024)
Apply now for Fall 2024 for Biochemistry (deadline January 1, 2024)
Apply now for Fall 2024 for Physics (deadline January 10, 2024)
Career Opportunities
With growing sophistication of nanoscience research, career opportunities have spread beyond the more traditional trajectories. Inherently-interdisciplinary, nanoscience draws knowledge and experience from the chemistry, biochemistry, engineering, materials, and physics disciplines, allowing for seemingly limitless applications predicted to impact almost every area of our lives.
CUNY and the ASRC are preparing students for these careers by providing theoretical, technical and applied education in nanoscience, training a new generation of nanoscientists.
Opportunities currently exist in both academic and industrial settings include, but are not limited to:
Technology: electronics/semiconductor industry, biotechnology
Medicine: bioengineering, pharmaceuticals, drug-delivery
Materials: textiles, polymers, packaging, food science
Energy: green energy, energy capture and storage
Transportation: auto and aerospace industries
Environmental: environmental monitoring, control, and remediation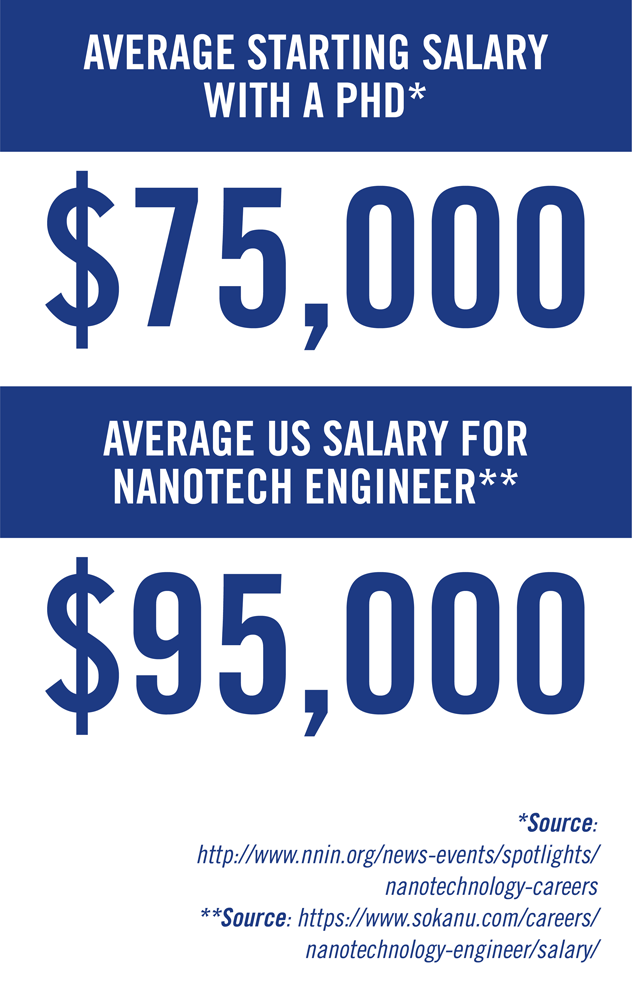 Entepreneurship
In New York City, the number of technology start-up companies increased 32% between 2007-2011, with more than 2,000 technology companies operating in 2017. As a result of its revolutionary technologies, nanoscience is at the core of more and more of technology start-ups.
The City University of New York (CUNY) is preparing graduates to capitalize on this expanding market by offering training, support and professional development for entrepreneurial activities in nanoscience.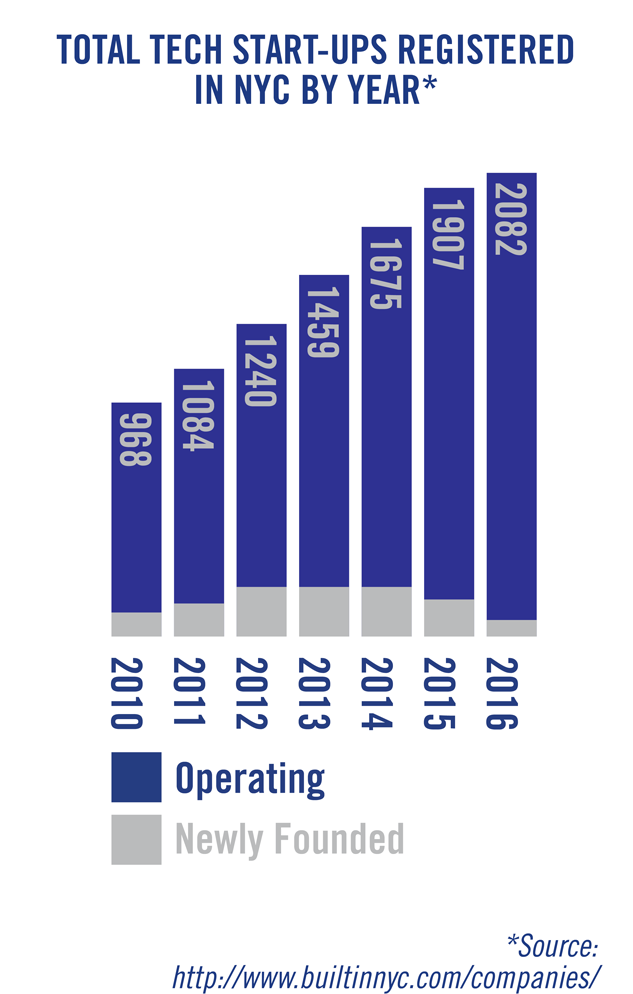 Resources at the ASRC
The City University of New York (CUNY) has state-of-the-art research laboratories, expertise and resources across The City's five boroughs to support education, training, and professional development of graduate students.
Nanoscience facilities and educational programming include:
State-of-the-art research facilities and instrumentation, including The Advanced Science Research Center
World-leading research professors
Grant and fellowship writing support groups
Entrepreneurial and technology commercialization support
Professional development