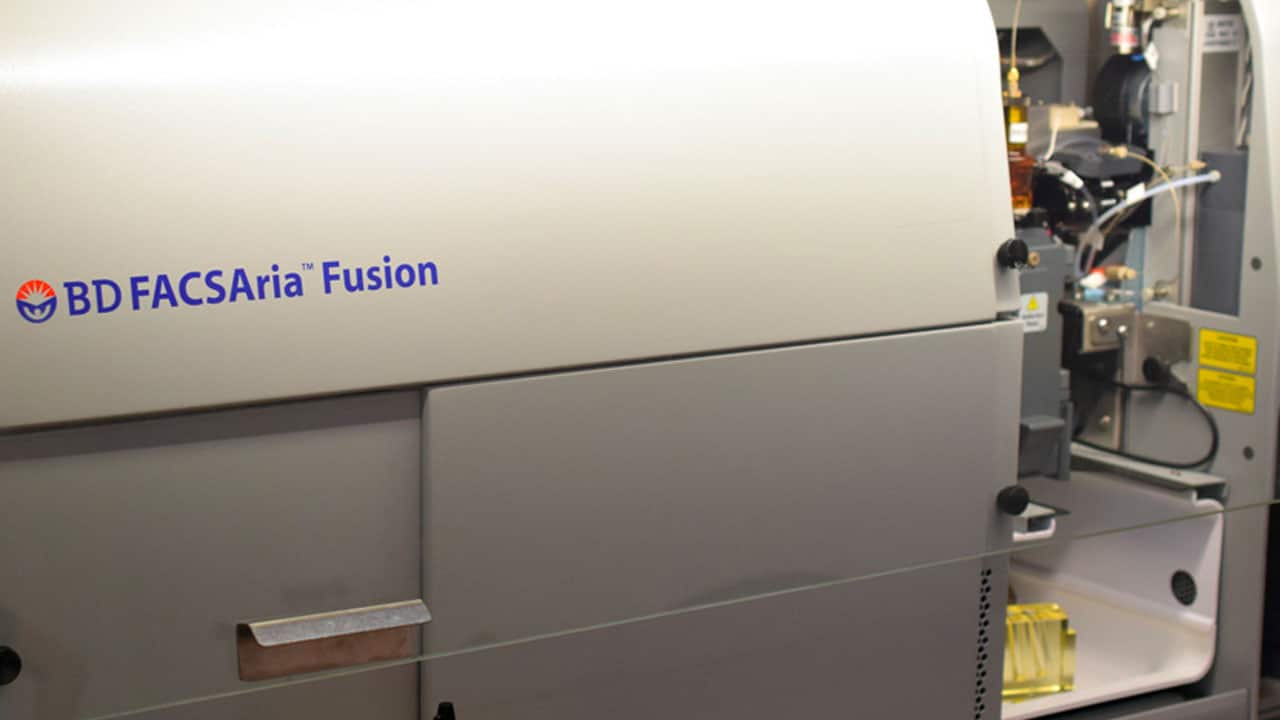 The BD FACSAria Fusion flow cytometer delivers exceptional multicolor performance and ease-of-use. This sorter combines the best-in-class biosafety expertise for a comprehensive advanced cell sorter and biosafety solution. The fully integrated biosafety cabinet meets emerging operator and sample protection requirements as well as global standards for bioprotection.
Features
Includes four solid state lasers for the ability to detect up to 11 simultaneous fluorescent colors.
Automated Cell Deposition Unit (ACDU) can accommodate slides and 6,24,48,96,384-well plates
Includes Biosafety cabinets to protect operators from risks associated with exposure to biological agents in samples.
Available Lasers
Blue Laser: FSC, SSC (488/10), FITC/Alexa 488 (530/30, 502LP), PerCP or PerCP Cy5.5 (675/20 or 695/40)
Red Laser: APC (660/20), APC-Cy7 or APC-H7 (780/60, 735 LP)
Violet Laser: BD Horizon™ Brilliant Violet™ 421, V450, VPD450, Pacific Blue™, DAPI (450/40), BD Horizon™ Brilliant Violet™ 510 or V500, AmCyan (525/50, 505LP), BD Horizon™ Brilliant Violet™ 605 (610/20, 595 LP)
Yellow-Green Laser: PE/DsRed (582/15), PE-Texas Red, Living Colors mCherry, PI (610/20, 600LP), PE-Cy5 or PE-Cy5.5 (670/14 or 710/50, 655LP)
---
Contacts
Jia Liu, Ph.D.


Director

,

Epigenetics Facility




Director

,

Rodent Behavioral Analysis Suite




Research Associate Professor

,

Neuroscience Initiative


jliu1@gc.cuny.edu
Manufacturer / Model
BD / FACSAria Fusion
Facility
Epigenetics Facility
Keywords
cell sorting, flow cytometry, laser