Posted on July 20, 2023 in ASRC News, Environmental Sciences Initiative, Nanoscience Initiative, Neuroscience Initiative, Photonics Initiative, Structural Biology Initiative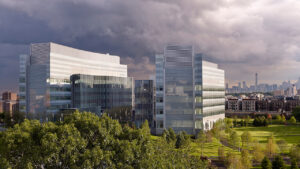 New York, NY, July 20,2023 — The City University of New York Graduate Center is pleased to announce the appointment of Mark Hauber as the executive director of its Advanced Science Research Center (CUNY ASRC).
Established in 2014, the CUNY ASRC is a world-class STEM research and education institution dedicated to interdisciplinary science that addresses global challenges and develops innovative technologies that will advance the economies of New York State and the nation. Its five research initiatives center on nanoscience, photonics, structural biology, neuroscience, and environmental sciences. Hauber will oversee CUNY ASRC operations; advance the organization's mission and strategic priorities; partner with initiative directors to identify and pursue new funding opportunities; and work with STEM leaders across CUNY to strengthen and diversify science research and education. Hauber's appointment begins on August 25, 2023.
Hauber comes to the CUNY ASRC with extensive experience as a researcher and academic administrator at large public university systems. He is currently the Harley Jones Van Cleave Professor of Host-Parasite Interactions at the University of Illinois, Urbana-Champaign School of Integrative Biology, where his research focuses on evolution and recognition systems in brood parasitic birds. Prior to his current position, Hauber was associate vice chancellor and interim university vice provost for research at the CUNY Central Office of Research, which serves the entire CUNY system. His experience also includes serving as a tenured professor of psychology at CUNY's Hunter College, where he worked as director of the college's Animal Behavior and Conservation master's degree program and helped secure a sizable donation for the program's endowment.
"Hauber's experience in research and research administration and his understanding of the CUNY system are impressive and exactly what the CUNY ASRC community was seeking in a new leader," said Graduate Center President Robin L. Garrell. "He will be able to lead the ASRC in realizing its operational and scientific goals, and further strengthen the ASRC as a shared asset of the CUNY system."
"The CUNY ASRC has become one of the top research facilities in New York over the past decade, and I'm excited to work with the initiative directors and CUNY leadership to grow that reputation, advance interdisciplinary science across CUNY, and seek new funding opportunities," Hauber said. "I'm also excited about the unique role that the ASRC can play in realizing greater diversity in STEM across CUNY and beyond."
The CUNY ASRC emphasizes collaborative, interdisciplinary approaches to tackling complex scientific challenges and developing new technologies that will benefit society. It has attracted world-renowned scientists who, along with early-career researchers and students, are conducting leading-edge research. To date, ASRC researchers have amassed more than $113 million in funding from government agencies and private foundations.
In his new role, Hauber will collaborate with the CUNY ASRC initiative directors to advance the center's research agenda and to develop business and funding plans for its labs and facilities, which are available to users within and beyond CUNY. Hauber is committed to advancing scientific research, education, and STEM outreach and diversity at the ASRC and Graduate Center.
"Dr. Hauber is the right person to lead the ASRC into its second decade," said Joshua Brumberg, dean for the sciences at the CUNY Graduate Center. "A strong foundation is in place, and under his leadership I am confident the ASRC will continue to flourish and promote interdisciplinary advances."
Hauber received his B.S. in biology, summa cum laude, from Yale University and his doctorate in neurobiology and behavior from Cornell University. He also received a second doctoral degree in biological science from the University of Auckland, New Zealand, and a master's in psychology from Victoria University of Wellington, New Zealand. He is an author of over 400 peer-reviewed scientific articles and The Book of Eggs (University of Chicago Press, 2014).
About the Graduate Center of The City University of New York
The CUNY Graduate Center is a leader in public graduate education devoted to enhancing the public good through pioneering research, serious learning, and reasoned debate. The Graduate Center offers ambitious students nearly 50 doctoral and master's programs of the highest caliber, taught by top faculty from throughout CUNY — the nation's largest urban public university. Through its nearly 40 centers, institutes, initiatives, and the Advanced Science Research Center, the Graduate Center influences public policy and discourse and shapes innovation. The Graduate Center's extensive public programs make it a home for culture and conversation.
About the Advanced Science Research Center at the CUNY Graduate Center
The Advanced Science Research Center at the CUNY Graduate Center (CUNY ASRC) is a world-leading center of scientific excellence that elevates STEM inquiry and education at CUNY and beyond. The CUNY ASRC's research initiatives span five distinctive, but broadly interconnected disciplines: nanoscience, photonics, neuroscience, structural biology, and environmental sciences. The center promotes a collaborative, interdisciplinary research culture where renowned and emerging scientists advance their discoveries using state-of-the-art equipment and cutting-edge core facilities.