Posted on March 30, 2020 in ASRC News, Environmental Sciences Initiative, NanoFabrication Facility, Nanoscience Initiative, Neuroscience Initiative, Photonics Initiative, Structural Biology Initiative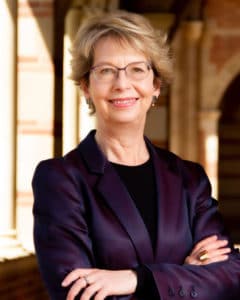 The Board of Trustees of The City University of New York today voted to appoint the next president of The Graduate Center.
To lead The Graduate Center — CUNY's prestigious hub of research and graduate education for the public good — the Trustees appointed Robin L. Garrell, vice provost for graduate education and graduate division dean at the University of California, Los Angeles. Garrell, whose academic background is in biochemistry and engineering, will lead a center with over 3,500 students in 31 doctoral and 16 master's programs. The Graduate Center, located in midtown Manhattan, has 134 core faculty, joined by 1,750 additional faculty members drawn from CUNY's colleges and New York City's cultural and scientific institutions. Garrell will succeed Interim President James L. Muyskens.
Garrell will head The Graduate Center after nine years as vice provost of the Graduate Division of UCLA, where she has had campus-wide responsibility for nearly 12,000 academic and professional graduate students and postdoctoral scholars. Garrell earned her Ph.D. in macromolecular science and engineering from the University of Michigan and, in addition to her leadership post at UCLA, she has been a professor of chemistry since 2003 and professor of bioengineering since 2013. She previously taught at the University of Pittsburgh.
Garrell has been noted throughout her career for advancing diversity, and since her appointment as vice provost and dean, enrollment in UCLA's graduate and professional degree programs by members of historically underrepresented groups have increased 40 percent. This year, 26 percent of new UCLA graduate students are first in their families to attend graduate school. Garrell serves as principal investigator on NSF Alliance for Graduate Education and the Professoriate projects and grants from the Andrew G. Mellon Foundation to implement holistic graduate admissions practices.
She has served as chair of the Faculty Executive Committee of UCLA and of the UCLA Academic Senate. As a research scientist, Garrell is the principal investigator of the NSF Integrated Graduate Education and Research Training (IGERT) Materials Creation Training Program, and is a member of the biomedical engineering faculty and California NanoSystems Institute (CNSI). Garrell also serves as an elected commissioner on the Western Association of Schools and Colleges Senior Colleges and University Commission and the Educational Testing Service's Graduate Record and Test of English as a Foreign Language advisory boards.
She will begin her tenure at The Graduate Center August 1.
"I am honored to be chosen to serve as the next President of the CUNY Graduate Center, which is world-renowned for its exceptional scholarship and public-facing research​," Dr. Garrell said. "I am excited to lead a center that serves as a national model for graduate education in an urban setting, preparing diverse students to become leaders in innovation, public service and research who will shape the city, region and nation for years to come."