Posted on August 27, 2018 in ASRC News, Neuroscience Initiative
Shafer's lab to focus on understanding the relationship between neural network function and circadian rhythms.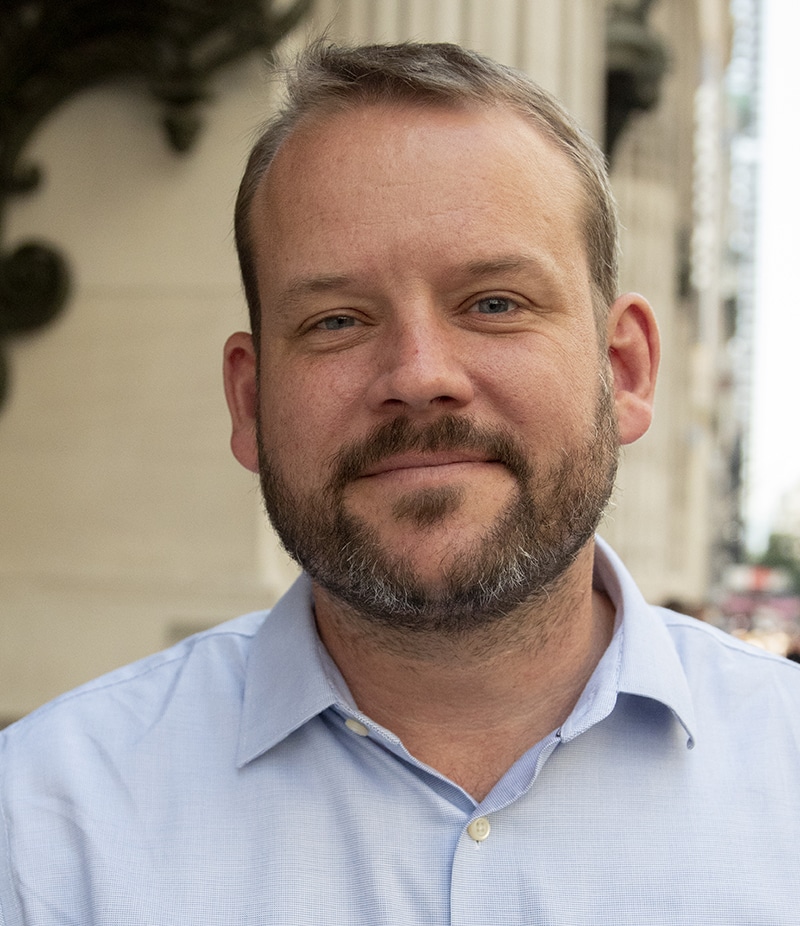 NEW YORK, August 28, 2018 – Orie Shafer has been appointed to the Neuroscience Initiative faculty of the Advanced Science Research Center (ASRC) at The Graduate Center of The City University of New York. Shafer will join as a tenure-track professor of biology at The Graduate Center, and his lab will focus on how neural networks create a robust circadian rhythm—the mechanism that times sleep and activity—and how entrainment—the process by which circadian rhythms are set to local time—occurs. Shafer is particularly interested in how networks of clock neurons operate when challenged by the unreliability of modern light environments.
"We are thrilled to have Orie join the Neuroscience Initiative," said ASRC Neuroscience Initiative Director Patrizia Casaccia, a professor of biology and biochemistry at The Graduate Center. "His research area best synthesizes the core of our mission, which is centered on an understanding of how environmental signals modulate brain gene expression and function. Orie brings model systems and chronobiology that will help advance the initiative's focus on glial biology and epigenetics, and we anticipate that his arrival will bring new, exciting discoveries in the years to come."
Shafer was most recently an associate professor at the University of Michigan where his work in the Department of Molecular, Cellular, and Developmental Biology focused on the neurobiological and genetic basis of biological timekeeping in the Drosophila melanogaster fly, whose molecular clock is highly similar to that of mammals, including humans.
Shafer worked as a visiting professor at Harvard Medical School's Department of Biology and as a visiting research scientist with Brandeis University's Department of Biology. He conducted his post-doctoral research at Washington University Medical School in St. Louis and received his Ph.D. from the University of Washington, Seattle.
Shafer has authored several seminal papers in the field of chronobiology, and his work has been funded by the National Institutes of Health and National Science Foundation.
###
Organizational Attribution
Our correct name is the Advanced Science Research Center at The Graduate Center of The City University of New York. For the purpose of space, Advanced Science Research Center, GC/CUNY is acceptable. On second reference, ASRC is correct.
About the Advanced Science Research Center
The ASRC at The Graduate Center elevates scientific research and education at CUNY and beyond through initiatives in five distinctive, but increasingly interconnected disciplines: environmental sciences, nanoscience, neuroscience, photonics, and structural biology. The ASRC promotes a collaborative, interdisciplinary research culture with renowned researchers from each of the initiatives working side by side in the ASRC's core facilities, sharing equipment that is among the most advanced available.
About The Graduate Center of The City University of New York
The Graduate Center of The City University of New York (CUNY) is a leader in public graduate education devoted to enhancing the public good through pioneering research, serious learning, and reasoned debate. The Graduate Center offers ambitious students more than 40 doctoral and master's programs of the highest caliber, taught by top faculty from throughout CUNY — the nation's largest public urban university. Through its nearly 40 centers, institutes, and initiatives, including its Advanced Science Research Center (ASRC), The Graduate Center influences public policy and discourse and shapes innovation. The Graduate Center's extensive public programs make it a home for culture and conversation.
###