Posted on August 30, 2018 in ASRC News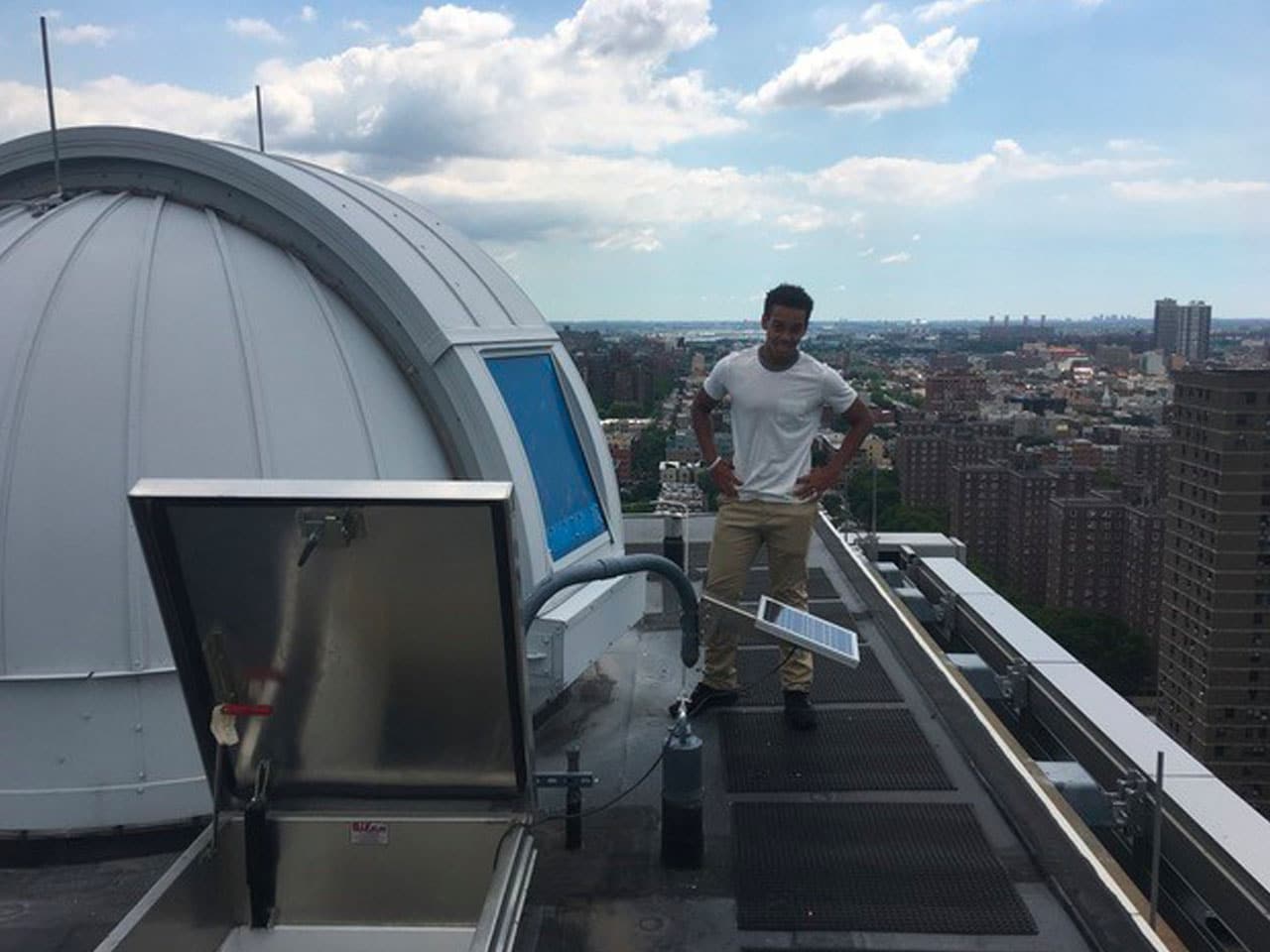 Until 16-year-old Kasar Profit came to the Advanced Science Research Center (ASRC) at The Graduate Center, CUNY this summer, he had no exposure to working in a lab. He had only dreamt of being an astrophysicist after reading a book by the late astronomer Carl Sagan.
His love of science led him to the ASRC where he developed a solar panel prototype under the mentorship of Professor Ricardo Toledo-Crow, director of the Next Generation Environmental Sensor facility, which is part of the ASRC's Environmental Sciences Initiative led by Professor Charles J. Vörösmarty.
Profit, a rising junior at St. Raymond's High School for Boys in the Bronx, said his biggest challenge was becoming familiar with the parts, concepts, and coding language to assemble the panel's electronic components. On the last day of his three-week intensive coursework, he mounted the sensor prototype on ASRC's roof where it continues to run, gathering data for Toledo-Crow's initiative.
"The staff that I worked with at the ASRC made the opportunity a great learning experience for me," Profit said. "Everyone I worked was very supportive and made sure that I understood the details of the project we were working on. I loved being part of a project that can help scientists collect data on the environment, which can later be applied to other important environmental work."
Profit is just one of a number of high school students selected to conduct research with ASRC faculty and doctoral students in disciplines such as nanoscience, structural biology, and environmental science.
The ASRC is committed to recruiting diverse students from New York City public schools. Before the end of the school year, ASRC mentors visited nearby Harlem schools to encourage students to assist in their labs.
"After speaking about nanofabrication and nanoscience with local area high schools this past spring, we placed the students who expressed interest in our lab," said Milan Begliarbekov, technical cleanroom manager in the ASRC's NanoFabrication Facility. "In our discipline, there are a lot of experiments that are very time intensive, which we don't have the time to do but are easy for high school students. With our guidance, the students develop their own outlook on what they are studying and gain a better understanding of what a career in science can be."
After the ASRC internship, Profit left for an artificial intelligence camp at Princeton. His fellow ASRC high school interns, Brianna Levy, Allen Li, and Jheaneel Rose, stayed through August and had the opportunity to present posters about their work at an end-of-summer barbecue.