Posted on January 23, 2017 in ASRC News, Nanoscience Initiative
Developing life-like nanotechnology based on biology's building blocks forms the core of Rein V. Ulijn's research with the CUNY Advanced Science Research Center's Nanoscience Initiative, and a new addition to his lab aims to assess the relevance and roles of simple biomolecules in the chemical origins of life.
Ankit Jain, who recently joined Ulijn's lab as a postdoctoral associate from Jawaharlal Nehru Centre for Advanced Scientific Research in Bangalore, India, is applying his research of peptides to the exploration of what possible functions those strands of amino acids may have performed in the most primal precursors of living systems.
"My study of prebiotic chemistry explores chemical scenarios that may have existed on Earth millions of years ago," Jain said. "We know the catalytic action of enzymes, reproduction of cells and replication of genetic materials are essential for the existence of life—but looking for these processes in simpler molecules reveals they are evolutionary landmarks that paved the way for the evolution of life as we know it today."
As a postdoctoral fellow with the Simons Foundation's Simons Collaboration on the Origins of Life (SCOL), Jain will have the opportunity to apply this work toward SCOL's goal of advancing our understanding of the processes that led to the emergence of life. Similar to the ASRC, the group seeks to approach problems from the perspective an array of scientific disciplines.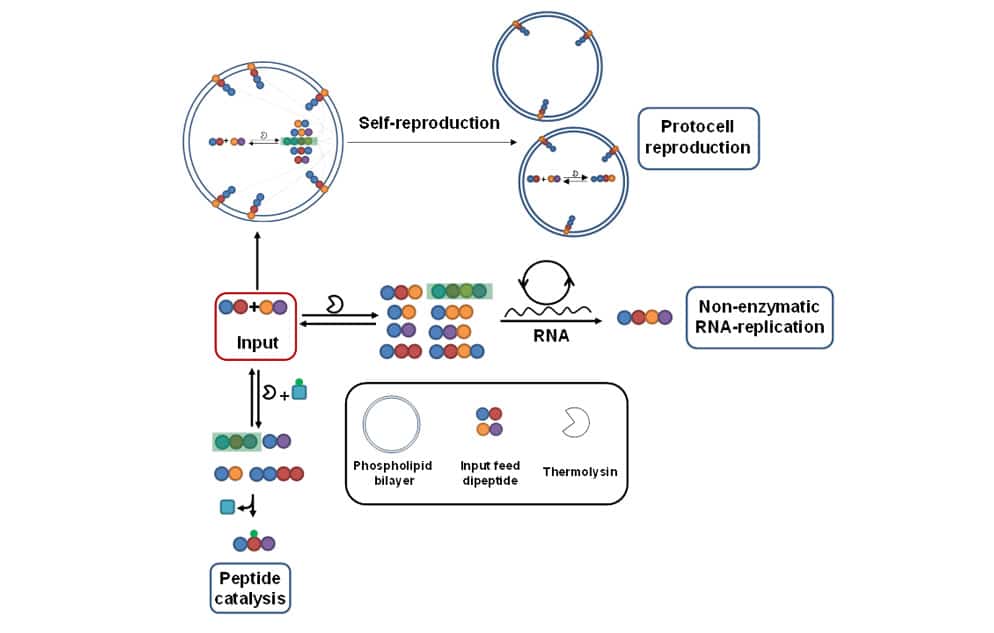 Jain is one of a select group of students chosen for the 2017 cohort to continue the innovative research into the astrophysical context of the origin of life, the development of prebiotic chemistry, the assembly of the first cells, the advent of Darwinian evolution and the first signs of life on Earth.
"By identifying simplistic peptides which show catalytic activity as predecessors of current enzymes, assist in the reproduction of protocells and catalyze replication of nucleic acid polymers such as RNA, I hope to find a common chemical ground for distinct life-relevant processes that work in tandem," Jain said.
Working in the lab of Dr. Ulijn will be a boon for Jain's research. Joining the internationally-recognized expert in peptide nanotechnology and having access to some of the most cutting-edge instrumentation available on the East Coast will allow Jain to push the boundaries of his work.
"Ankit will find in the CUNY ASRC a welcoming environment for scientists looking to approach problems collaboratively from many different disciplinary viewpoints," Ulijn said. "His work with peptides and the building blocks of life on Earth will certainly complement my own work and will likely inform new approaches to development of life-like nanotechnologies relevant to future materials design."