Posted on June 2, 2015 in ASRC News, Nanoscience Initiative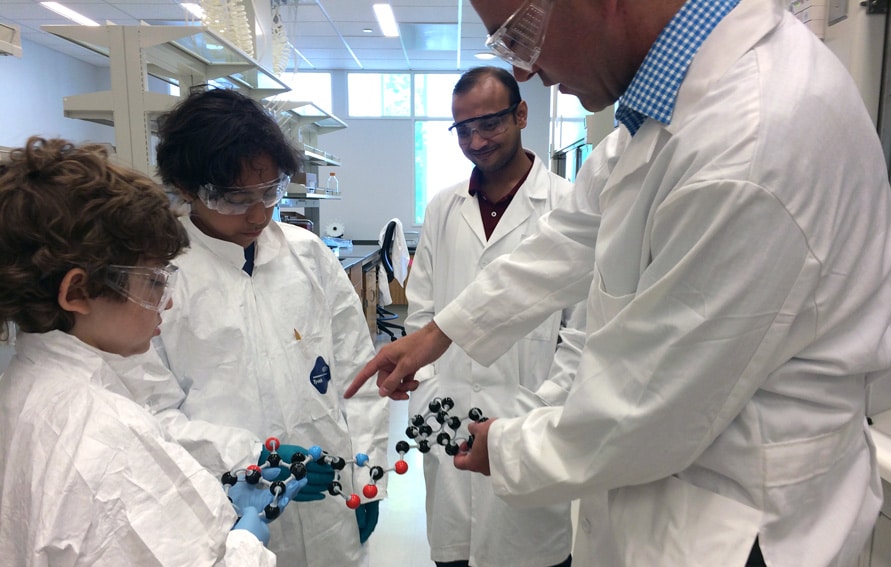 The City University of New York's Advanced Science Research Center (ASRC) played host to a group of elementary school students in its Nanoscience Initiative facilities on Saturday, May 30.
In conjunction with the World Science Festival, faculty and graduate students including Rein Ulijn, Director of the ASRC Nanoscience Initiative at the ASRC gave the participants an introduction to Nanoscience. After a brief overview that included a question and answer session, the hosts took the group to the labs and gave them an experiment to prepare nanomaterials.
Upon completion, the students checked the results of their experiments to see if their hypotheses were correct, and looked at their nanomaterials using an electron microscope. Each attendee then received a certificate recognizing their accomplishments for the day.
The ASRC also played host to World Science U programs both Saturday and Sunday, where each day featured talks from world leaders in science, including Adam Riess, Nobel Laureate in Physics; Andrew Strominger, the Gwill E. York Professor of Physics at Harvard University; and Carlo Rovelli, theoretical physicist from Aix-Marseille University.
---
About the ASRC: The new CUNY Advanced Science Research Center (ASRC) is a University-wide venture that elevates CUNY's legacy of scientific research and education through initiatives in five distinctive, but increasingly interconnected disciplines: Nanoscience, Photonics, Structural Biology, Neuroscience and Environmental Science. Led by Dr. Gillian Small, Vice Chancellor for Research and the ASRC's executive director, the center is designed to promote a unique, interdisciplinary research culture. Researchers from each of the initiatives work side by side in the ASRC's core facilities, sharing equipment that is among the most advanced available. Funding for the ASRC from New York State is gratefully acknowledged.
###