Posted on January 13, 2015 in ASRC News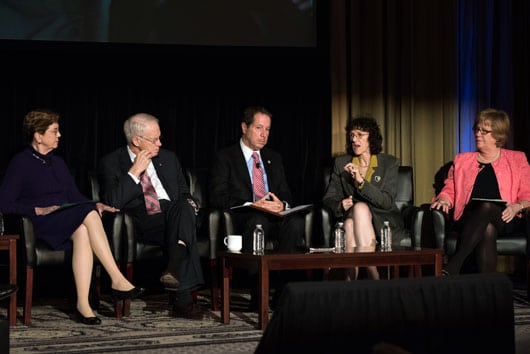 At the 2014 Higher Education Leadership Conference — TIAA-CREF Institute's signature annual event — Gillian Small, Vice Chancellor for Research at the City University of New York and Executive Director of CUNY's Advanced Science Research Center, joined a wide-ranging list of prominent speakers assembled to present the latest academic and business model innovations on campuses nationwide.
On a panel moderated by TIAA-CREF President and CEO Roger W. Ferguson, Jr., Dr. Small and other experts explored the changing demands of the American economy which now requires a workforce that can combine expertise in established disciplines with specific skills from emerging fields, such as cybersecurity and social technologies. Featured speakers at this year's conference included university presidents or chancellors previously recognized for leadership excellence; top corporate executives and association leaders; scholars conducting cutting-edge research; and campus decision-makers implementing innovative strategies.