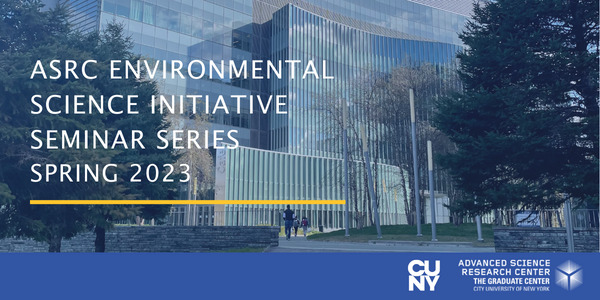 Continuing this spring seminar series, the ASRC Environmental Science Initiative is excited to host Maria Diuk-Wasser, PhD, Director of Graduate Studies and Professor in the Dept. of Ecology, Evolution and Environmental Biology at Columbia University, presenting a talk on:
Tick-Bone Zoonoses in the New York Metropolitan area: A Coupled Natural-Human System
Abstract: The nature of the linkage between biodiversity and infectious disease risk has been frequently debated. Discussions have centered on the shape, directionality, generality and scale of this association. Tick-borne diseases continue to emerge as a public health threat and have been used as a model system to study the biodiversity-disease relationship. Framing tick-borne diseases as a coupled natural-human system, I will discuss the differential roles of habitat fragmentation, host community assembly, human exposure and protective behaviors in mediating the biodiversity-disease relationship. Disentangling these multiple determinants can help guide policy decisions for biodiversity conservation and public health.
Bio: Maria is a Professor in the Department of Ecology, Evolution, and Environmental Biology (E3B). Her research integrates empirical and analytical tools to disentangle the ecological and environmental drivers for the emergence of vector-borne diseases, particularly tick-borne. Current research focuses on the role of pathogen interactions, host community composition, climate and land use change in the epidemics of multiple tick-borne pathogens in the United States. Other research interests include landscape ecology, evolutionary ecology, behavioral ecology and conservation biology.
This seminar series will take place in the 1st Floor Seminar Room with the option to join via Zoom.
Please follow lobby signage directing you to the 1st Fl corridor windows where you will then walk right until reaching the 1st Fl Seminar Room.
Meeting ID: 892 7906 4948 Passcode: 516742
Dial by your location: +1 646 558 8656 US (New York)
Further questions can be emailed to:
Doris Switzer
Environmental Science Initiative Coordinator
switzer@gc.cuny.edu