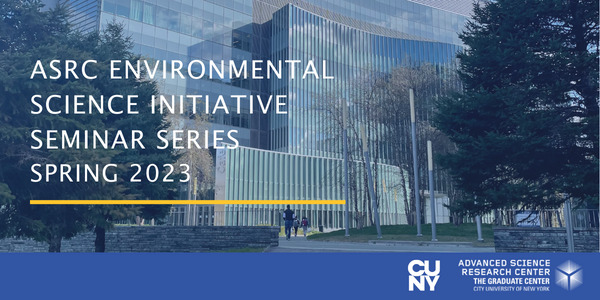 Inaugural speakers of this spring seminar series with the ASRC Environmental Science Initiative will include Anthony Cak, PhD, Nicolas Maxfield, and Hussain Bokhari, presenting "TechTalks" on:
• "Using WebPlotDigitizer to Extract Data from Graphs" – Anthony D. Cak, Ph.D.
• "Downloading Water Quality Data from USGS and other Cool Tricks using R" – Nicolas Maxfield
• "Linear Regression for Predictive Model Building" – Hussain Bokhari
Abstract: Tech Talks are short talks to share with the community some insight into useful techniques for data processing (retrieval, staging, analysis and presentation). Contributions are open to anyone that has a cool technique to share. Tech Talks are generally structured as guided examples of the technique at hand, along with links to further tutorials and documentation.
Bios: Anthony D. Cak, Ph.D. is the Associate Director of the Environmental Sciences Initiative at the ASRC. His research interests include ecosystem ecology and hydrology, geospatial technology, data visualizations, and science policy and communication.
Nicolas Maxfield is a third-year Ph.D. student at the CUNY Graduate Center with the Earth and Environmental Sciences program. His research is in water quality modeling, focused specifically on how climate extremes influence the transport of nitrogen through rivers and to the coast of the United States.
Hussain Bokhari is a Research Assistant at the CUNY ASRC and a graduate student of the "Sustainability in the Urban Environment" master's program at the City College of New York, with an undergraduate background in physics. For the past 3 years, Hussain's research has specialized in integrated geospatial modeling to simulate food-energy-water systems dynamics at the regional scale and evaluate risks to the bulk sector in the U.S.
This seminar series will take place in the 1st Fl Seminar Room with the option to join via Zoom.
Please follow lobby signage directing you to the 1st Fl corridor windows where you will then walk right until reaching the 1st Fl Seminar Room.
Meeting ID: 892 7906 4948 Passcode: 516742
Dial by your location: +1 646 558 8656 US (New York)
Further questions can be emailed to:
Doris Switzer
Environmental Science Initiative Coordinator
switzer@gc.cuny.edu