Zeiss LSM 880 Airyscan Fast Live Cell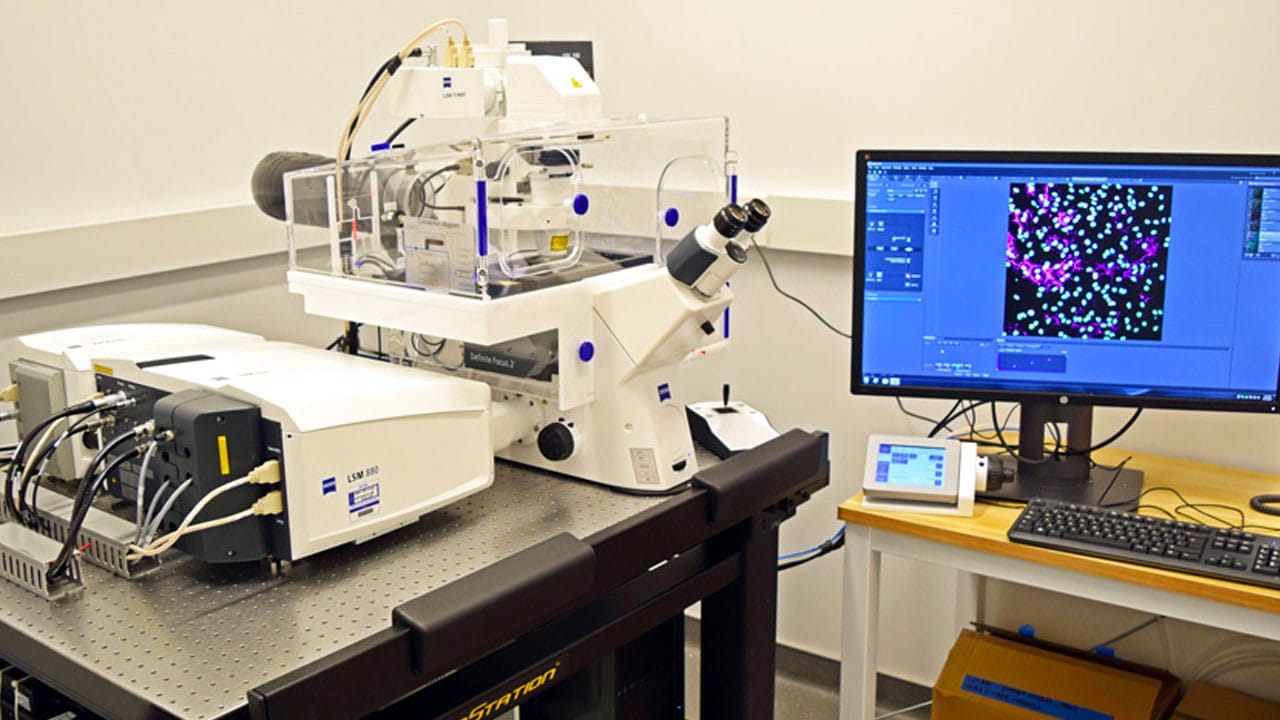 The Zeiss LSM 880 Airyscan Fast Live Cell is a unique confocal that provides high resolution, sensitivity and speed that enables gentle live cell imaging with super resolution. Airyscan delivers super resolution of 140 nm XY, and 4-8 times sensitivity. The FAST module increases speed 4 times up to 100 fps, which increase productivity when performing quantitative imaging. Temperature, CO2, humidity controlled incubator is optimized for time lapsing live imaging.
Features
Airyscan to achieve 1.7x resolution (140nm XY, 400nm Z) and 4-8x sensitivity
FAST model for 4x speed up to 100fps
Axio Observer inverted platform with motorized XYZ stage
Definite focus 2 prevent focus drift over time
Piezo with 500um travel range for extremely fast Z stacks
Tokai-Hit stagetop incubation chamber
Zen Black software with the modules of Z stacks, timelapse,  tiling, multi position, co localization, FRAP, super resolution, deconvoltuion, 3D processing.
Laser Lines
Argon:  458, 488, 514 nm
Diode: 405 nm
DPSS: 561 nm
HeNe: 633 nm.
Objectives
EC Plan Neofluor 10x/0.3 NA
Plan Apo 20x/0.8
Plan Apo 40x/1.2 NA Water or Type W Oil
Plan Apo 63x/1.4 NA Oil DIC
Detectors
2 PMT's
1 GaAsP (2x sensitivity)
1 Airyscan super resolution detector
1 Transmitted light detector
Applications
Super resolution confocal imaging of fixed or live samples, photoactivation, or photoconversion in live cells or organisms
Capturing fast events such as Ca2+ imaging
FRAP
FRET
---
Contacts
Ye He, Ph.D.


Director

,

Live Imaging and Bioenergetics Facility




Co-Director

,

MALDI-TOF MS Imaging Facility




Research Associate Professor

,

Neuroscience Initiative


yhe1@gc.cuny.edu
Manufacturer / Model
Zeiss / LSM 880 Airyscan Fast Live Cell
Facility
Live Imaging and Bioenergetics Facility
Keywords
airyscan, cell incubator, fast 3D, live imaging, super resolution