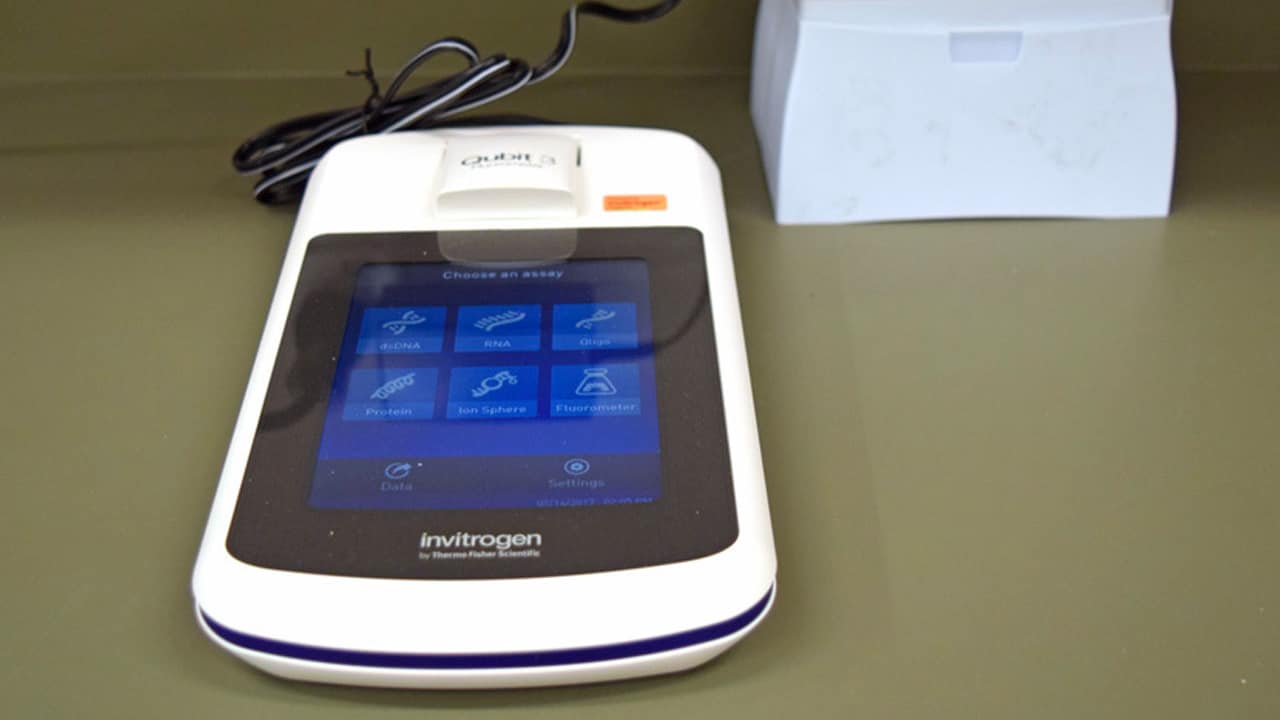 Qubit 3.0 Fluorometer is the next generation of the popular benchtop fluorometer that accurately measures DNA, RNA, and protein using the highly sensitive Qubit quantitation assays. The concentration of the target molecule in the sample is reported by a fluorescent dye that emits a signal only when bound to to the target, which minimizes the effects of contaminants—including degraded DNA or RNA—on the result. The easy-to-use touch screen menus make it easy to select and run the assays you need, with results displayed in just a few seconds.
Features
Utilizes fluorescent dyes that are specific to the target of interest. These fluorescent dyes emit only when bound to the target molecules, even at low concentrations more sensitive than UV absorbance
Powerful, dual-core processor quickly and accurately quantifies DNA, RNA, and protein, in <5 seconds per sample
Uses as little as 1 μL of sample
Key Supported Applications
dsDNA
oligos
total RNA
microRNA
Instructions for Use
This instrument is billed with an annual usage fee only (1/1-12/31).
Please also sign up in Badger to reserve the instrument. Reserving the instrument will NOT lead to billing charges. This is only to avoid conflicts in use.
Results will be returned to user via SFTP.
Location
ASRC 4th Floor Rm 4.134
---
Contacts
Jia Liu, Ph.D.


Director

,

Epigenetics Facility




Director

,

Rodent Behavioral Analysis Suite




Research Associate Professor

,

Neuroscience Initiative


jliu1@gc.cuny.edu
Facility
Epigenetics Facility
Keywords
chip sequencing, DNA sequencing, dsDNA, microRNA, next generation sequencing, nucleic acid, protein sequencing, quality control, RNA, RNA sequencing, RNA shearing