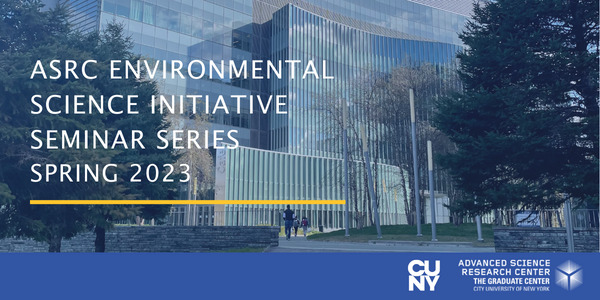 In this weekly seminar series, Dianne Greenfield, PhD, Associate Professor, Environmental Sciences Initiative, Earth and Environmental Sciences at the ASRC-Environmental Sciences Initiative and CUNY-Queens College, will present a talk titled:
Recent Insights to the Ecology and Detection of Harmful Algal Blooms in NY and CT Waterways
Abstract: Harmful algal blooms (HABs) occur in both freshwater and marine environments and are caused by highly diverse phytoplankton and macroalgal species spanning several Kingdoms. HABs are associated with deteriorating water quality (such as eutrophication), public and wildlife health risks through direct exposure to or consumption of tainted shellfish and/or finfish, as well as ecosystem disruption worldwide. Numerous climate models predict that future HAB and hypoxia (dangerously low oxygen levels) incidences and severities will escalate. In my laboratory, we study the complex environmental feedbacks between global change stressors (such as urbanization, nutrients, and climate) and coastal phytoplankton ecology and biogeochemistry though a wide range of approaches spanning molecular to ecosystem scales integrated within field and laboratory studies.
Recently, we have focused on quantifying how nitrogen (N) enrichment affects phytoplankton and microbial assemblages along NYC regional coastlines and their co-occurrences with other anthropogenically-influenced stressors, such as hypoxia. In this seminar, I will highlight a few such projects, emphasizing the advances and challenges of HAB science in the NY/CT coastal region.
Bio: Dr. Greenfield is an Associate Professor with the Advanced Science Research Center and Queens College, City University of New York. She is a biological oceanographer who combines fundamental ecology with molecular tools to study complex feedbacks between human activity and ecological and
biogeochemical processes within marine and freshwater ecosystems. Her research emphasizes phytoplankton – microscopic organisms that form the base of aquatic food webs and profoundly influence biogeochemical cycling, productivity, and climate. Dr. Greenfield completed her Bachelor's degree at Mount Holyoke College, Master's degree at Tulane University, PhD at Stony Brook
University, and a Postdoctoral Fellowship with the Monterey Bay Aquarium Research Institute. She held a prior position at the University of South Carolina, joint with the Marine Resources Research Institute in Charleston, SC. She also serves on the Association for the Sciences of Limnology and Oceanography's Executive Board, the Science and Technology Advisory Committee for the Long Island Sound Study, is an Associate Editor for the journal Estuarine, Coastal and Shelf Science, as well as others.
This seminar series will take place in the 1st Fl Seminar Room with the option to join via Zoom.
Please follow lobby signage directing you to the 1st Fl corridor windows where you will then walk right until reaching the 1st Fl Seminar Room.
Meeting ID: 892 7906 4948
Passcode: 516742
Dial by your location: +1 646 558 8656 US (New York)
Further questions can be emailed to:
Doris Switzer
Environmental Science Initiative Coordinator
switzer@gc.cuny.edu