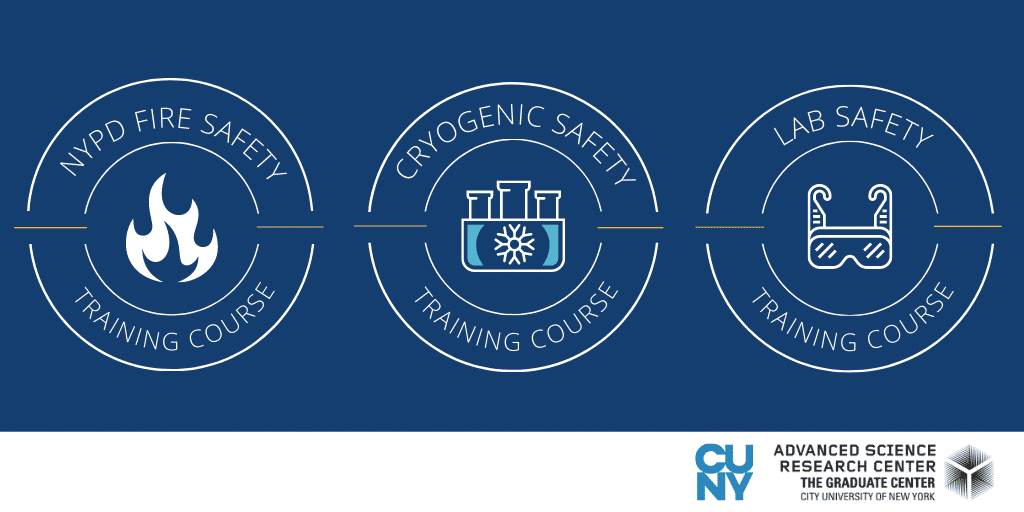 EHOS Training Schedule August 2022
  These are Zoom trainings.  The login and Pass Code information are located on the schedule and registration is not required. 
After training, the instructor will then send you a certificate and our training records will be updated to show that you have completed all requirements before working in the labs etc.
Of note, additional trainings on other safety related topics will be coming out in the near future.  We are working with CUNY Central and several other sister CUNY schools to procure a training program that will cover many, if not all, of the other topics our researchers need and are required by the regulatory agencies.  These include Biosafety, IACUC, Blood Borne Pathogens, Laser Safety, OSHA safety modules and more, with further info. to be provided soon.
 
Date
Time
 Zoom Meeting ID/Pass Code
Lab Safety
Monday

08-01-22

12:00 PM –1:30 PM
894 6799 7405/875574
C14 FDNY Fire Safety
Tuesday

08-02-22

12:00 PM –1:30 PM
837 4315 3179/254178
Cryogenic Safety
Wednesday

08-03-22

12:00 PM –1:00 PM
858 4872 5779/779899
Lab Safety
Tuesday

08-09-22

12:00 PM –1:30 PM
816 3367 3638/876708
C14 FDNY Fire Safety
Thursday

08-11-22

12:00 PM –1:30 PM
818 9384 3372/631074
Cryogenic Safety
Wednesday

08-17-22

12:00 PM –1:00 PM
830 8484 7783/039496
Lab Safety Training
Tuesday

08-23-22

12:00 PM – 1:30 PM
889 6661 2449/190555
C14 FDNY Fire Safety
Thursday

08-25-22

12:00 PM – 1:30 PM
822 0661 2545/848544
For questions, please contact:
Thomas Dickson
Environmental Health and Occupational Safety
ASRC – Graduate Center CUNY
85 St.Nicholas Terrace
New York, NY 10031
P: (212)-413-3351
M: (917)-414-4608