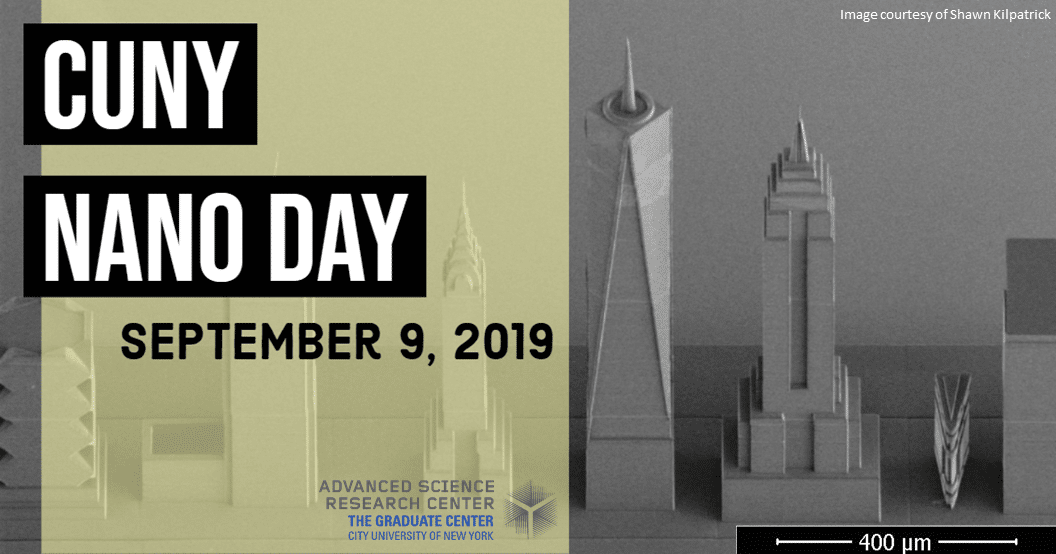 Come join the Nanoscience community at the CUNY Advanced Science Research Center to share your exciting research and recent achievements!
On September 9th, we invite Junior Faculty Members, Postdoctoral fellows, PhD Students, and Industry Colleagues to present a 20-minute talk or a poster presentation. Prizes will be awarded to best poster.
This event is open to all Nanoscience researchers in CUNY and the greater NYC institutions. Lunch will be provided.
Registration is required to participate. Click here to register!
Abstracts for talks and posters submissions are due on September 3rd. Click here to submit your abstract!
Poster Dimensions: Maximum dimensions of posters should not exceed
Landscape Orientation: 36" x 24"
Portrait Orientation: 36" x 48"
Schedule
9:30 A.M.

A.M. SESSION

Breakfast & Registration (Data Visualization Room)

Chaired by Dan Heller, Memorial Sloan Kettering Cancer Center

10:00 A.M.
Welcome Remarks

Rein Ulijn, Advanced Science Research Center

 

10:10 A.M.
Implantable Nanosensor Detection of an Ovarian Cancer Biomarker In Vivo

Ryan Williams, City College of New York

10:40 A.M.
Structural Basis of Stereoselectivity in Oligosaccharides Assembly

Mateusz Marianski, Hunter College

 

11:10 A.M.
Thermoresponsive Protein-Engineered Fiber Based Hydrogels

Priya Katyal, New York University

 

11:30 A.M.
Nanocarbon Icing Sensor and Dew Point Hygrometer

Vladimir Samuilov, Stony Brook University

 

12:00 P.M.

 

P.M. SESSION

Lunch (Ground floor lobby)

Chaired by Mateusz Marianski, Hunter College

1:00 P.M.
New Materials Systems for High-Efficiency Photovoltaic Devices

Milan Begliarbekov, Advanced Science Research Center

1:30 P.M.
Multiscale Simulation of the Shape Deformation of a Glassy Polymersome

Sharon Loverde, College of Staten Island

 

2:00 P.M.
Improving Precision Medicine: Integrating Protein Engineering, Drug Delivery, and Genomics for Cancer Therapy

Mandana T. Manzari, Memorial Sloan Kettering Cancer Center

2:20 P.M.

2:40 P.M.

Fundamentals of Space-Charge-Limited Current Measurements

Jason Alexander Rohr, New York University

 

Size and Shape Controlled Metal and Polymer Nanoparticles as well as Their Assemblies

Nikunjkumar R. Visaveliya, City College of New York

 

3:00 P.M.
Closing Remarks
3:05 P.M.
Poster Presentations (Ground floor lobby)

Nanoscience Facilities Tour

 
Poster Presentations
 Towards large scale screening for inhibitors of multi-drug efflux pumps, Andreas J.W. Hartel
1,3-Propanediol Based Polyol Synthesis for Shape-Controlled Monodispersed Silver Nanostructures and Their Assemblies, Firdaus Khatoon
 Working Principle of Microfluidics and Platform for Droplet Generation of Nanomaterials Synthesis, Ashni Kapadia
 Synthesis and Characterization of Size Tunable Nanoparticles, Damien Halpern
 Size and Shape Controlled Polymer Nanoparticles Through Semi-Microfluidics Emulsion Polymerization, Kelvin Leo
 Combinatorial Photoresponsive Supramolecular Films, Andrew M. Levine