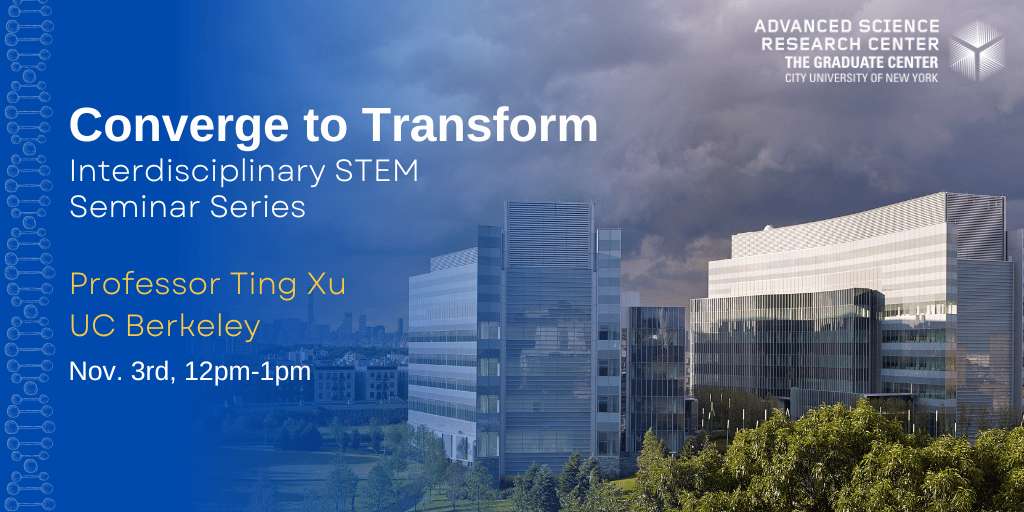 Please join us for a one-hour talk, as part of the ASRC's Converge to Transform: Interdisciplinary STEM Seminar Series, from Professor Ting Xu, University of California, Berkeley, titled:
Toward Merging Synthetic and Biological Macromolecules
Abstract- Proteins, nature's "own" building blocks, have many unique features unmatched by any synthetic organic or inorganic analogs. Using natural proteins to construct functional materials will clearly change the paradigm of materials science. In parallel, learning protein's sequence-structure-function relationship can also inform and accelerate development of biomimetic protein-like materials. I will present our explorations at the interfaces between synthetic and biological macromolecules toward next generation of functional materials and beyond."
Bio– Prof. Ting Xu received Ph.D. from the Department of Polymer Science and Engineering from the University of Massachusetts, Amherst in 2004. Her postdoctoral training focused on de novo protein design, jointly between the University of Pennsylvania and the Cold Neutron for Biology and Technology (CNBT) team at NIST from 2004-2006. She joined University of California, Berkeley in 2007 as Assistant professor in both the Department of Material Sciences and Engineering and Department of Chemistry and rose to the rank of full professor in 2016.
Prof. Xu's research interests rest at the interface among soft matter, biology, material chemistry and engineering. Her research efforts focus on understanding assembly process in multi-component systems and applying the fundamental knowledge to control the assembly kinetics and pathways to generate hierarchically structured nanomaterials with built-in functionalities. Researchers in Xu's group take advantage of the recent developments in polymer science, protein science, synthetic biology, and nanoparticles synthesis and manipulation, and apply them to establish chemistry-structure-property relationship and generate functional materials for life science, environment and energy applications.
Prof. Xu is a fellow of American Physical Society, American Chemical Society and serves on the Board of Directors of Materials Research Society since 2020. She was named as one of "Brilliant 10" by Popular Science Magazine in 2009. She is the recipient of awards including 2008 3M Nontenured Faculty Award; 2008 DuPont Young Professor Award; 2009 Office of Naval Research Young Investigator Award; 2010 Li Ka Shing Woman Research Award; 2011 Camille-Dreyfus Scholar-Teacher Award; 2011 ACS Arthur K. Doolittle Award, 2018 Bakar Fellow and 2021 Bakar Prize. For their development of compostable plastics, her team was awarded the grand prize of the 2021 Create the Future Design Contest among entries from 55 countries: and the Falling Walls Breakthrough of the Year 2022 in Engineering & Technology.
In initiating this series, we seek to highlight outstanding, high impact and inspiring interdisciplinary research, bring together researchers from across many disciplines to break down silos, and enrich CUNY's undergraduate and graduate student training experiences.
The CUNY ASRC was established nearly 8 years ago to advance interdisciplinary STEM research, within the country's largest public urban university system, in the service of building knowledge and solving important societal problems through innovation. Recognizing that the solutions to these problems will emerge from dynamic and creative thought that transcends traditional disciplinary boundaries, the Center is comprised of five increasingly interconnected fields – Nanoscience, Photonics, Structural Biology, Neuroscience, and Environmental Science – and promotes synergistic collaborations among its research groups and across the university. Together, our researchers address issues that range from energy harvesting and storage to the impacts of urbanization and climate change on forests, soils, marine ecosystems, and human health. 
This one-hour seminar will take place in the ASRC auditorium and be broadcast via Zoom.
 Zoom access >>>
Meeting ID: 880 4112 9151
Passcode: 960398
For further questions about this hybrid event, please contact:
Shelby Truitt
struitt@gc.cuny.edu