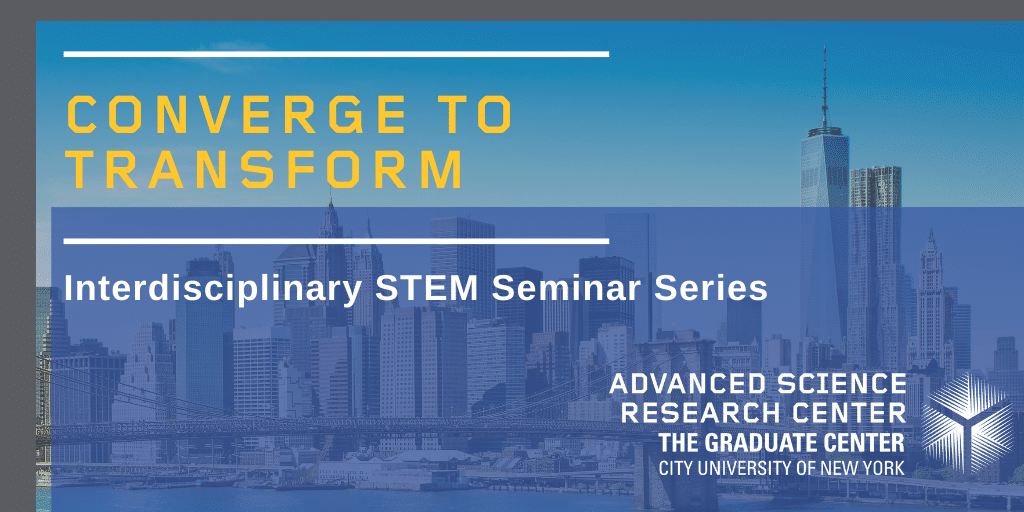 Speaker: Robert Wright, MD, MPH, Ethel H. Wise Chair of the Department of Environmental Medicine and Public Health and Director of The Institute for Exposomic Research at the Icahn School of Medicine at Mount Sinai
Title: Exposomics, Medicine and Public Health
Register for the seminar here: https://asrc.formstack.com/forms/converge_to_transform_series_110521
Researchers today simultaneously need to address a growing demand for technological advances and an expanding list of threats to our planet and humanity. Solutions to these challenges will not be realized within siloed areas of research, but through the kinds of dynamic, innovative thought produced when researchers work across disciplines. Thus, the ASRC is hosting a new seminar series for the 2021-22 academic year to highlight outstanding, high impact, inspiring interdisciplinary STEM research for the public good. The series will bring together researchers across many disciplines as well as enrich CUNY's undergraduate, graduate, and postdoctoral trainees educational experiences. Speakers in this series will present recent advances in nanomaterials, nanotechnology, imaging, computational biology, environmental impacts on human health, epigenetics, and molecular and cellular causes of cancer and neurodegeneration.
Join us on Friday, November 5 at 12pm for the second speaker in this series: Robert Wright, MD, MPH, Ethel H. Wise Chair of the Department of Environmental Medicine and Public Health, and Director of The Institute for Exposomic Research at the Icahn School of Medicine at Mount Sinai. He will give a talk titled Exposomics, Medicine and Public Health.
A pediatrician, medical toxicologist, and environmental epidemiologist, Dr. Wright studies chemical mixtures, social stressors as a modifier of chemical toxicity, and the role of genetics/epigenetics in modifying or mediating chemical toxicity. He is an international advocate for research on exposomics—the measure of all health relevant human exposure throughout the lifespan. In September 2018, he joined the National Advisory Environmental Health Sciences Council (NAEHSC), a Congressionally mandated body that advises the secretary of Health and Human Services, the director of NIH, and the director of the National Institute of Environmental Health Sciences (NIEHS) on matters relating to the direction of research, research support, training, and career development supported by the NIEHS.