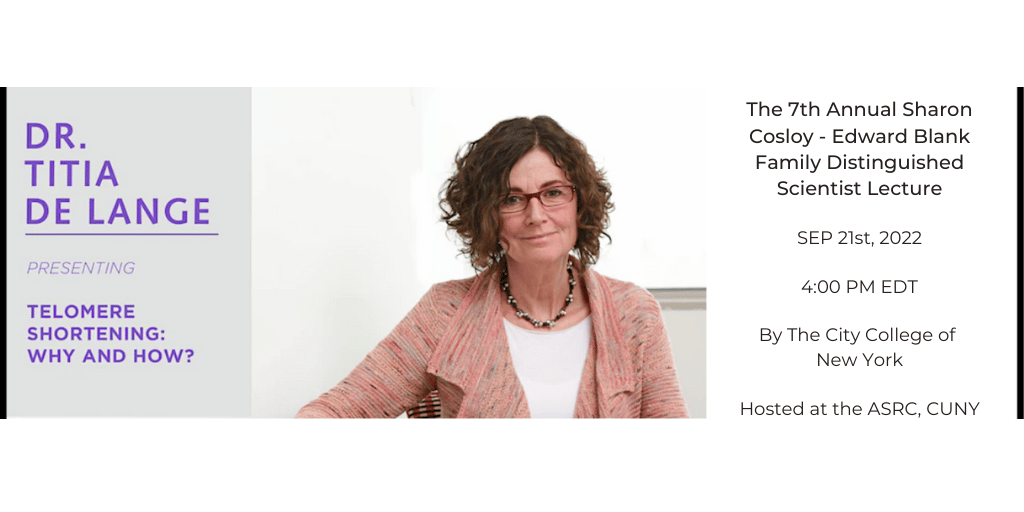 Please join the CCNY Division of Science for The 7th Annual Sharon Cosloy – Edward Blank Family Distinguished Scientist Lecture with Dr. Titia de Lange on September 21st at 4pm.
Dr. Titia de Lange will be presenting a talk titled: "Telomere shortening: why and how?"
About Dr. Sharon Cosloy:
Dr. Sharon Cosloy was a member of the City College Biology faculty for 27 years and served as Chair of the Biology Department for six years. She was a beloved mentor, educator, wife and mother and a passionate investigator of life and science. The Professor Sharon Cosloy and Edward Blank Family Distinguished Scientist Lectureship is regarded as the preeminent scientific lecture on campus. The City College of New York is grateful to Edward Blank and his family for their generous support.
This event will take place in the ASRC Auditorium and be broadcast via Zoom, with refreshments and networking in the adjoining café to follow. An RSVP will be required to join for food/ refreshments and the lecture.
Meeting ID: 864 8738 2303
Passcode: 627130
For further questions, please contact:
Jason Redman