The ASRC Nanofabrication Facility undertakes collaborative multidisciplinary projects centered around creating novel devices and interfaces. Examples of past and ongoing projects include miniature electrical circuits for quantum computing applications, microfluidic devices to create lab-on-chip platforms, microneedle arrays to interface with individual cells, micro electromechanical pressure sensors,  nano-coatings, and many others. The possibilities are virtually endless!
To create these devices we routinely use a variety of lithographic techniques that produce patterns which span eight orders of magnitude: from several nanometers to centimeters in size.
These patterns are subsequently used to either deposit materials, such as metals, glasses, or ceramics, or to etch these materials with nanometer precision.
The facility is also supported by an imaging suite, that consists of a cryogenic TEM for life sciences, a materials science TEM, a training TEM, and a dual beam SEM / FIB / Nanomanipulator system for sample preparation. For users, the facility provides an opportunity to carry out hands-on research with some of the world's most sophisticated instruments for the fabrication and characterization of materials at the micro and nanoscale.
The Nanofabrication Facility is a highly collaborative research space located on the ground floor of the Advanced Science Research Center at The Graduate Center, CUNY. The facility is home to dozens of interdisciplinary research teams from many diverse sectors of academia and industry. Our mission is to facilitate scientific discoveries and development of new technology by providing both mentorship and access to a state of the art nano-manufacturing environment. We are also passionate about enhancing the quality of science education in New York City. We partner with local educational institutions to develop curricula and find new and creative ways share our enthusiasm for STEM with the next generation of New Yorkers.
Staff in the Nanofabrication Facility have extensive experience not only fabricating but also designing and characterizing these structures. As a result, we frequently collaborate with individuals who are new to nanofabrication to ensure their success.
---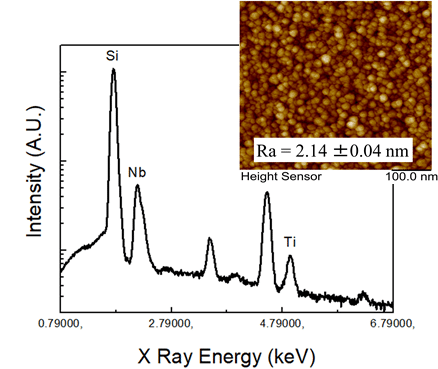 Quantum Electronics
In collaboration with Javad Shabani's group, NYU
The goal of this work is to develop novel quantum electronic devices using InAlAs. In particular this collaboration seeks to understand the physics at the interface of InAlAs and high critical field superconductors such as Nb-Ti alloys and to use this understanding to design structures that can support exotic quasi-particles such as Majorana and other non-Abelian Fermions.
---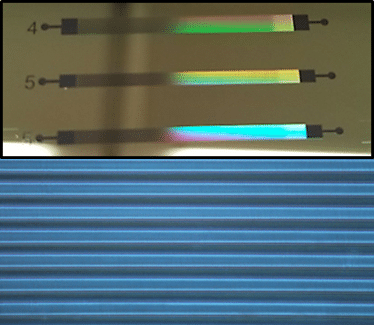 Micro- and Nano-Fluidic Devices
In collaboration with A. Duke Shereen, CUNY ASRC
The goal of this work is to create micro and nano-fluidic structures that will be used to improve Diffusion Tensor Imaging (DTI) in Magnetic Resonance Imaging. Using conventional nanofabrication techniques we are able to create and accurately characterize silicon based structures, which are subsequently used as standards to calibrate DTI models. By using silicon as a model system we are able to access a level precision which is otherwise unattainable if biological specimens are used.
---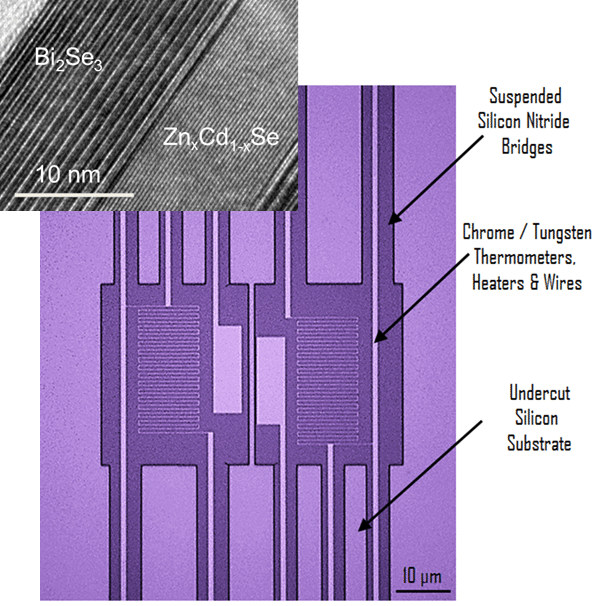 Thermal Transport in Topological / Trivial Insulator Heterostructures
In collaboration with Maria C. Tamargo and Lia Krusin-Elbaum CUNY CCNY
The interfaces of topological and trivial insulators are theoretically predicted to be good thermoelectric materials due to the unusual properties hosted by the Dirac bands in topological insulators. As a part of this collaboration we grow heterostructures of Bismuth Selenium and Zinc Cadmium Selenium and mechanically exfoliate them on custom designed and built devices that are used to measure heat transport in these heterostructures.
---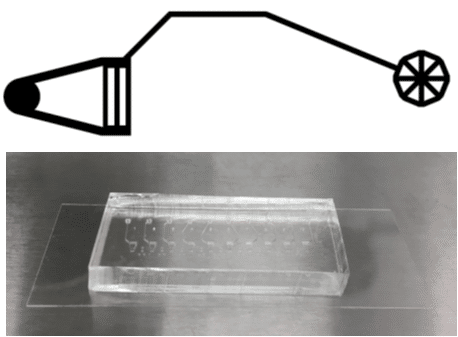 Microfluidic Mazes to study the behavior of C. Elegans
In collaboration with Iva Greenwald, Columbia University
Standard lithography is used to fabricate PDMS master molds patterned with flow channels and chambers to trap and study C. elegans. The master molds are used to carry out soft lithography with PDMS to fabricate multiple single-use chips.
---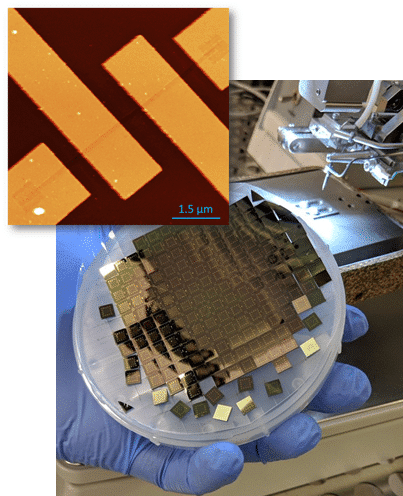 Understanding the Physics of Topological Insulators
In collaboration with Lia Krusin-Elbaum, CUNY CCNY
A longstanding project in the group is the fabrication of various electronic devices used to study the fundamental physics in topological insulators. These devices are used to study both topological insulators that have been mechanically exfoliated from crystals as well as 2D films which were sputtered in the Nanofabrication Facility.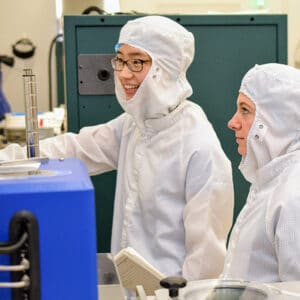 The NanoProject Seed Grant program was created to address the infamous catch-22 of academic research: you need preliminary data to get funded, yet you also need funding to acquire the preliminary data. The program provides researchers with limited access to the facility in order to collect data/make a device that will be used to either finish an experiment that is almost ready for publication or for a grant proposal.
The total fabrication costs incurred for a single NanoProject cannot exceed $1500.
NanoProjects may be performed either by the researchers themselves or in collaboration with Nanofabrication staff.
NanoProject Seed Grants are reviewed by an internal committee, and are awarded based upon equipment and staff availability at the discretion of the Nanofabrication staff.
Apply online for a NanoProject Seed Grant »
Please note: Due to the high demand for equipment use, a maximum of ten NanoProject Seed Grants will be awarded per academic year.
Complete the online application to become a user of this and other ASRC facilities.
For more information, please contact:
Nanofabrication Facility
Advanced Science Research Center
City University of New York
85 St. Nicholas Terrace
New York, NY 10031
Email: nanofab@gc.cuny.edu